Una dirección de protocolo de Internet (IP) es un identificador único que consta de cuatro conjuntos de números del 0 al 255, separados por tres puntos. Esto es requerido por todos los dispositivos en la red para conectarse a Internet.

Una dirección IP estática es una dirección IP fija que se configura en la configuración de una computadora o enrutador. Hay proveedores de servicios de Internet (ISP) que requieren que ingrese ciertos números en la configuración TCP/IP de su computadora para conectarse en línea con su módem. Estos son los mismos números que debe ingresar en la página de configuración basada en la web de su enrutador para configurar una cuenta de IP estática
IMPORTANTE: Antes de configurar el router con la IP estática, debe disponer de la siguiente información de su ISP:
Dirección IP de Internet

Máscara de subred

Gateway predeterminada

Servidor de nombres de dominio (DNS)
Estos ajustes deben permitir que su computadora vaya en línea cuando esté conectado al módem, de lo contrario, póngase en contacto con su ISP. También puede verificar con ellos el tipo de conexión a Internet que está utilizando.
Para configurar su router con una dirección IP estática, realice los pasos siguientes.
NOTA: Esta función solo está disponible si está conectado localmente a la red.
Paso 1:
Conecte el módem al puerto de Internet del router de Linksys Smart Wi-Fi.
 

Paso 2:
Conecte un cable Ethernet de su computadora a cualquiera de los puertos numerados en la parte posterior del router.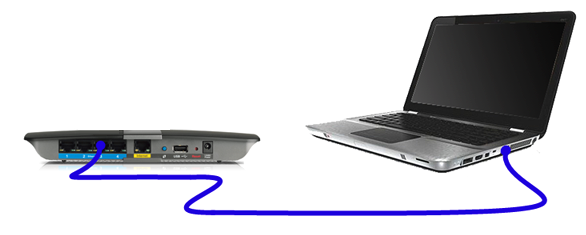 NOTA: Su configuración debe ser parecida a la siguiente.
Paso 3:
Conecte el adaptador de corriente proporcionado a una toma de corriente y al router de Linksys Smart Wi-Fi.
CONSEJO RÁPIDO: Asegúrese de que la luz de alimentación es fija antes de continuar con el siguiente paso.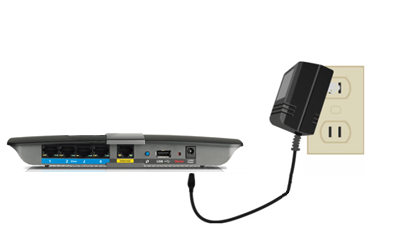 Paso 4:
Inicie un explorador web e introduzca "192.168.1.1"en la barra de direcciones. Pulse [Enter] [Entrar].
NOTA: En este ejemplo, se utiliza Internet Explorer como explorador web.
 

Paso 5:
Se le solicitará que acceda al router. Introduzca "admin" en el campo Router Password (Contraseña del router) y haga clic en Log In (Iniciar sesión).

NOTA: Si ha cambiado la contraseña del enrutador, introduzca la nueva contraseña. En caso de que haya olvidado su contraseña de router, haga clic
aquí
para aprender a recuperarla.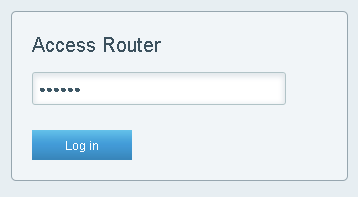 Paso 6:
Recibirá un mensaje en el que se indique The router is not set up (El router no está configurado). Active la casilla junto a I understand that my network is currently open and not secure. I would like to use Linksys Smart Wi-Fi to configure my router's security settings. (Entiendo que mi red está actualmente abierta y que no es segura. Me gustaría utilizar Linksys Smart Wi-Fi para configurar manualmente los parámetros de seguridad del router). A continuación, haga clic en Continue (Continuar).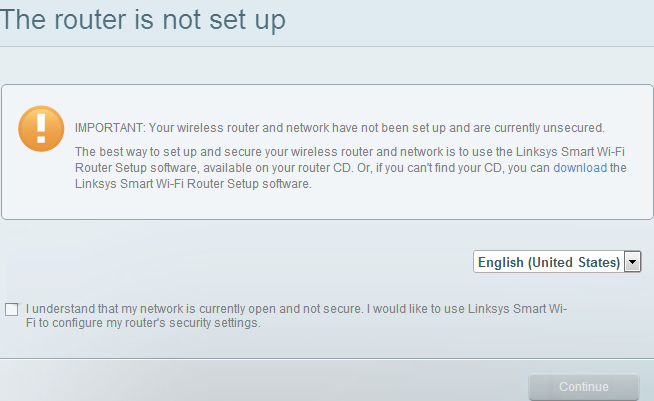 Paso 7:
Haga clic en Connectivity (Conectividad).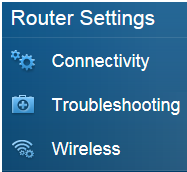 Paso 8:
Haga clic enla ficha Internet Settings (Parámetros de Internet) y, a continuación, haga clic en el enlace Edit (Editar) junto a Type of Internet Connection (Tipo de conexión a Internet).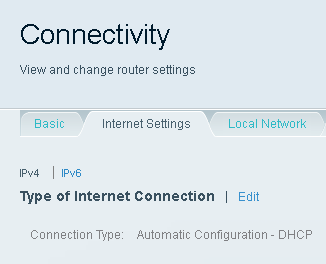 Paso 9:
Seleccione Static IP (IP estática) en el menú desplegable Connection Type (Tipo de conexión).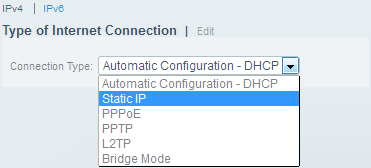 Paso 10:
Introduzca la información necesaria proporcionada por el ISP.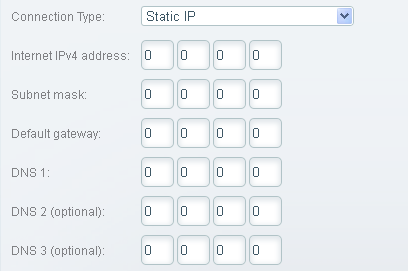 Paso 11:
Haga clic en el botón 

 situado en la esquina inferior izquierda de la página.
Paso 12:
En el cuadro emergente Applying Changes (Aplicando cambios), haga clic en Ok (Aceptar).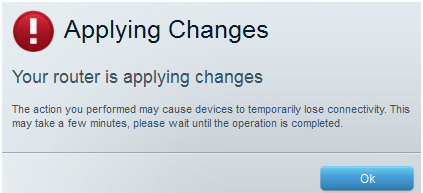 Paso 13:
Apague el router durante 30 segundos.
NOTA: Su conexión a Internet debe estar activa una vez ACTIVADO el router. En un mensaje se le indicará que la conexión a Internet se ha restaurado y que puede utiliza su cuenta de la nube Linksys.
Paso 14:
Haga clic en Yes (Sí) y siga asociando su router a su cuenta de la nube Linksys. Para obtener instruccionessobre cómo iniciar sesión con su cuenta de la nube Linksys, haga clic
aquí
.