Quality of Service (QoS) is used to set up priority to specific devices, services or applications within the network through the router, so that the maximum amount of available throughput and speed can be used.

Before you begin, make sure to take note of the following important information:
Should you choose to set the QoS to Enabled, you will risk reducing the Internet speed of other computers that are connected to the same network.

Your devices should first be connected to the Internet and that your wireless router has been setup properly.  
NOTE:  The Linksys Wireless-N Router allows you to set up QoS.  If you have the latest Linksys Smart Wi-Fi Routers, the QoS counterpart in the setup page is called Media Prioritization.  To know more about this tool, click
here
.  
 
This article will guide you on how to set up QoS on a Linksys Wireless-N Router.  To do this, follow the steps below:
Step 1:
Using a computer that is hardwired to the Linksys router, access the web-based setup page. 
Step 2:
Click on the Applications and Gaming tab then select QoS from the sub-tabs.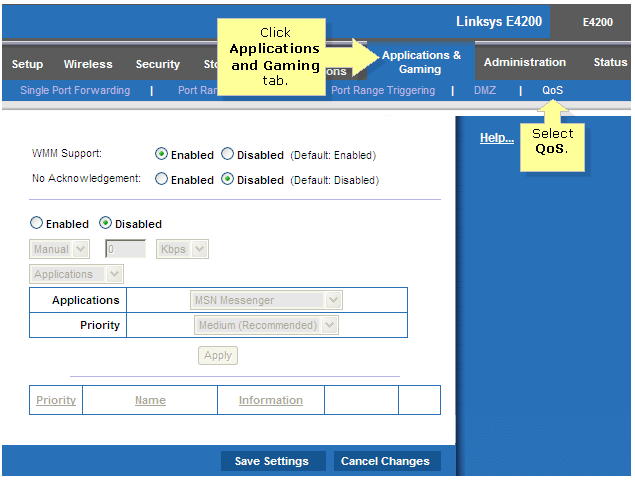 NOTE:  Wi-Fi Multimedia (WMM) Support is a wireless QoS feature that improves quality for audio, video, and voice applications by prioritizing wireless traffic.  It is Enabled by default. 
 
Under the No Acknowledgement section, select Enabled if you do not want your router to resend data whenever an error occurs.
 
Step 3:
On the Internet Access Policy Priority field, select Enabled.
 
NOTE:  You can set the Upstream Bandwidth to Auto or Manual.  Auto will set the upstream bandwidth to 512 Kbps.  Manual will accept values from 128 to 122880 Kbps or 1 to 512 Mbps.
 
To allow your router to detect the maximum level, keep the default Auto.  To specify, select Manual then enter the appropriate bandwidth and select Kbps or Mbps.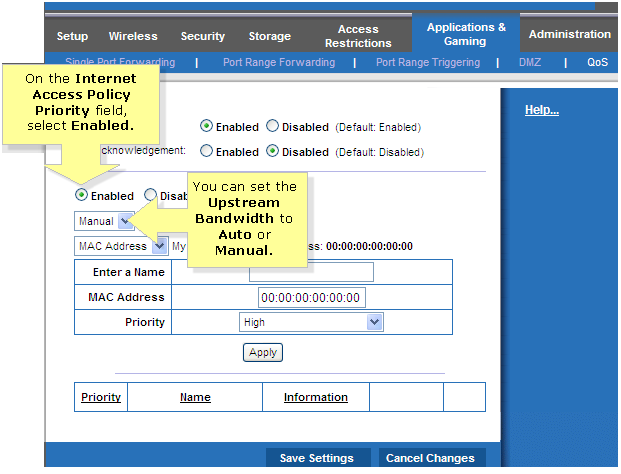 Step 4:
Click on the drop-down arrow to select the appropriate Category based on how you want to set up priority.  Create a name to easily identify the device and enter its MAC Address then select the desired level of priority.
 
NOTE:  In this example, we will use MAC Address as the category.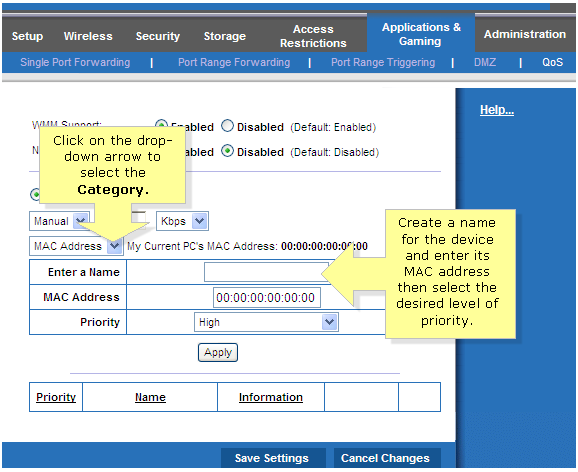 Step 5:
Click

 to save your changes. 
 
NOTE:  The settings you made would appear right away in the Summary field below.

Step 6:
Click

.
Related Article:
Implementing Wireless QoS on a Linksys Router