The 
Linksys Smart Gigabit Switch (LGS308, LGS308P, LGS308MP, LGS318, LGS318P, LGS326, LGS326P, and 
LGS326MP)
offers a quick and easy solution to extend your office network.  The switch features gigabit speed ports, a web-based setup page for easy configuration and management, and PoE+ support for networking devices to be located anywhere without the need for alternating current (AC) outlets.
 
This article will provide you the instructions on how to access the switch's web-based setup page.
Step 1:
Open a web browser and enter "http://192.168.1.251" in the Address bar and then press Enter .  
 
NOTE:  The switch's default IP address is 192.168.1.251.

Step 2:
Enter the Username and Password in the login page.  

NOTE:  The default username and password is "admin".
 
Step 3:
Click Log In.
You have now accessed the web-based setup page of the switch.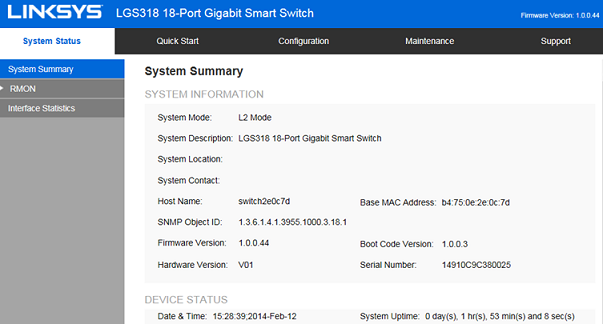 To learn more about your switch's features, click the links below:

Backing up the Configuration File and saving configuration changes on the Linksys Smart Gigabit Switch
Setting up a VLAN on the Linksys Smart Gigabit Switch
Configuring QoS on the Linksys Smart Gigabit Switch
Restarting the Linksys Smart Gigabit Switch
Setting the Linksys Smart Gigabit Switch to factory defaults
Accessing the Menu CLI on the Linksys Smart Gigabit Switch
Upgrading the Linksys Smart Gigabit Switch's firmware