text.skipToContent
text.skipToNavigation
Adding a child node to your Velop system using an iOS mobile device

This article will teach you how to add a child node to the Velop network.  Follow the instructions below.
---
Requirements
1.  The latest Linksys app version
2.  iOS mobile device: iOS 11.4 or later
Directions
Step 1:
Launch the Linksys app.

Step 2:
Tap on Manage Your Wi-Fi.




Step 3:
Log in with your Linksys server account or router password.  Tap on Log in.




Step 4:
Tap on the menu
 icon on the dashboard.  

Step 5:
Tap on Set up a New Product.




Step 6:
Tap on Add Another Node to xxxxx (the xxxxx represents the name of your Wi-Fi).




Step 7:
Tap on To extend my Wi-Fi with a new child node.




Step 8:
The app will show you how to place the node.  Tap on Next.




Step 9:
Plug the node to a power source and then tap on Next.




Step 10:
The app will prepare the node for connection to the network.  




Step 11:
Check if the light on the node is blinking purple.  Tap on Yes, it's Blinking Purple.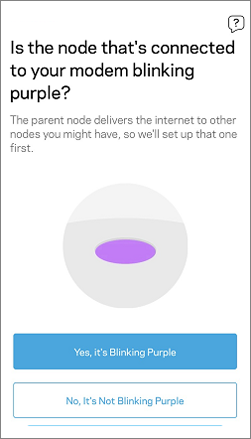 Step 12:
The app will now add the child node to your network.




Step 13:
Select a name for your node or customize a name then tap on Next.




Step 14:
You have successfully added a node.  Tap on Next.




Step 15:
If you want to add another node, tap on Add Another Node; if not, tap on That's it for Now.




Step 16:
Updates for the node will automatically happen overnight.  The node can also report crashes to Linksys to make your Wi-Fi better.  If there are new updates for the node, tap on Start Update.  Otherwise, tap on Next.




Step 17:
The child node is now ready.  You can connect additional devices to your Wi-Fi or tap on Go to Dashboard. 




The dashboard should now show the total number of nodes in your network.
Was this support article useful?
Additional Support Questions?