The Linksys Selectable Dual-Band Wireless-N Range Expander, RE2000 lets you repeat the wireless signal of any access point or router to provide Internet connectivity to hard-to-reach areas through a wired or wireless connection.
This Wireless-N range extender can be set up through:
•   Accessing its web-based setup page
•   Using Linksys Connect software if you have it installed on your computer
•   Using the setup software in the CD that comes with it
•   Using the Wi-Fi Protected Setup™ (WPS) on the RE2000 if your router also supports it
Front Panel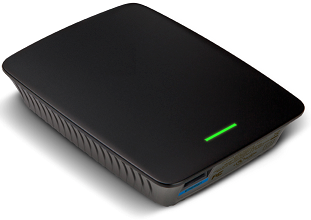 The Linksys RE2000's LED has two (2) functions:
• Power - The power light is located on the front panel. It lights up when the range extender is powered ON.  The light flashes slowly every three (3) seconds when the device is reset to factory defaults or during a firmware upgrade.  When the range extender is ready for use, the light is continuously lit.  If there is an error, the light flashes quickly (every second).
• Wi-Fi Protected Setup™ - When the WPS process is active, the light flashes slowly.  When the WPS is successful, the light is continuously lit.  If there is an error, the light flashes quickly (every second) for two (2) minutes.
Top Panel


 Wi-Fi Protected Setup™ (WPS) button – If you have client devices that support WPS such as wireless printers, this button automatically configures wireless connection and security after initial setup.

 Power switch – Powers the extender ON or OFF.
NOTE:  This functionality is only available in the European versions of the RE2000.
 Reset button – Press the Reset button for eight (8) seconds to reset the range extender to its factory defaults.  You can also reset the device from the Administration > Factory Defaults screen in the range extender's web-based setup page.

 Power port – This is where you connect the power adapter.
Bottom Panel


 Ethernet port – the Fast Ethernet (10/100 Mbps) port works as a wireless bridge to instantly connect any wired Ethernet device to a wireless network.  The green LED is lit when an Ethernet device is connected and active on this port.
Product Features:
•   Supports Wi-Fi Protected Setup™ (WPS) for wireless client devices
•   Can be set up using Linksys Connect setup software or through the web-based utility for manual configuration
•   Security features include Wi-Fi Protected Access 2 (WPA2) security, which encrypts data on your wireless network
The RE2000 only supports Wired Equivalent Privacy™ (WEP) with hexadecimal format security key.  If your gateway is set up with a Wyour Internet Service Provider (ISP) for assistance.
The RE2000 Linksys Connect Setup Software is compatible with the following operating systems (OS):
Windows
Windows XP SP3
Windows Vista SP1
Windows 7
Windows 8 
Mac OS X®
Leopard 10.5.8 or higher
Snow Leopard 10.6.1 or higher
Lion 10.7 all versions
Mountain Lion 10.8 all versions
NOTE:  For more details about this product, visit the Linksys Support Site to browse for more troubleshooting articles, downloadable user guides or firmware updates and other support information.


Related Article: