The Linksys AC1200 Max Wi-Fi Range Extender, RE6500 is the latest range extender from Linksys with 802.11ac technology.  It lets you repeat the wireless signal of any access point or router to provide Internet connectivity in hard to reach areas through a wireless connection on either the 2.4 GHz or 5 GHz frequency band.

Front Panel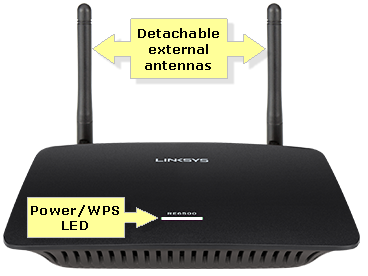 Power/WPS LED Status
Blinking white - When the extender is powered ON, is resetting to factory defaults, upgrading its firmware or WPS connection is in process
Solid white - When the extender is ready to use or WPS connection is successful
Blinking amber for two (2) minutes - When the extender cannot establish a connection or encounters a problem 
Back Panel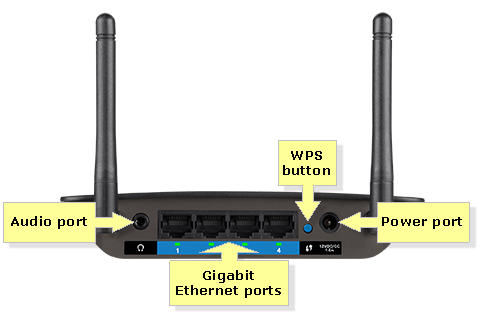 Audio port – Connect any 3.5 mm headset or speaker to the range extender
Gigabit Ethernet ports – Four (4) ports to connect wired devices to your wireless network using Ethernet (network) cables.  The green light turns ON when an Ethernet device is connected and active on this port.  The light blinks when the extender is sending or receiving data over the Ethernet port.
Wi-Fi Protected Setup™ (WPS) button – use the WPS technology to automatically and securely add wireless devices to your network
Power port – connect the device's power adapter to this port and plug it to a power outlet.
NOTE:  European versions of this device have a power switch.
Product Specifications
Model Name

 Linksys AC1200 Max Wi-Fi Range Extender, RE6500

Model Description

 Dual-band Wireless-AC Range Extender

Model Number

 RE6500, RE6500HG

Standards

 IEEE 802.11ac, 802.11a, 802.11n, 802.11g, 802.11b, and 802.3u

Ports

 Gigabit Ethernet, Audio, and Power

Buttons

 Reset, Wi-Fi Protected Setup™, and Power Switch (European model only)

LEDs

 Power/Wi-Fi Protected Setup, and Ethernet (link/activity)

Cabling Type

 CAT 5e

Antennas

 2 external (detachable)

Antenna Height

 9 cm (for RE6500)

16.8 cm (for RE6500HG)

dbi

 3 dbi (for RE6500)

 5 dbi (for RE6500HG)

Wireless Security

 Wi-Fi Protected Access™ 2 (WPA2), Wi-Fi Protected Access™ (WPA), and  WEP

Security Key Bits

 Up to 128-bit encryption

Supported Browsers

 Internet Explorer 8 or higher, Safari 5 or higher, Chrome 34.0.1847.114 or higher,  and Firefox 8 or higher

Compatible Operating Systems 

 

Windows

:  Windows XP SP3, Windows 8, Windows 7, Windows Vista SP1 and  higher
 MAC OS X®:  Leopard 10.5.8 or later, Snow Leopard 10.6.1  or later, Lion 10.7,  Mountain Lion 10.8
 Android™ or iOS
NOTE:  The Linksys RE6500HG has the added High Gain (HG) antennas and with the exact same specifications and functions as the RE6500.  The Linksys RE500HG-AP is the version for APAC region.  To know more about this, click

here

.

Related Article:
Setting up the Linksys AC1200 Max Wi-Fi Range Extender, RE6500