The WVC80N is a Wireless-N Internet Home Monitoring Camera that is designed to send live videos to your home computers, or through the Internet using a web browser or Smartphone anywhere you go.  This compact, self-contained unit lets you monitor activities in your home, of your kids, in your workplace or whatever's important to you.
Product Overview

Front Panel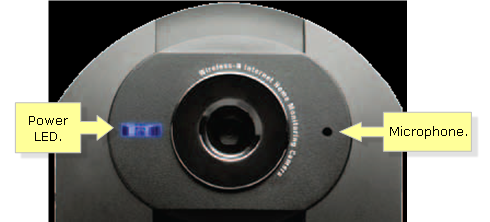 Power (Blue) - This LED lights up when the camera is powered ON.  It flashes while the camera is booting up and remains lit when the device is ready for use.
Microphone - The microphone is used to record ambient sound.
Bottom Panel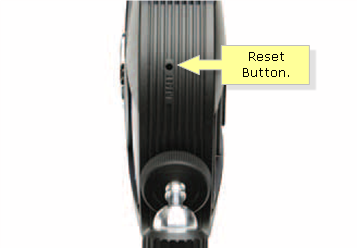 Reset - This button is used to reset the camera.  To reset, insert an object with a small-pointed tip (such as a pen), then press the Reset button until you hear it click, then hold it down for 10 seconds.
Back Panel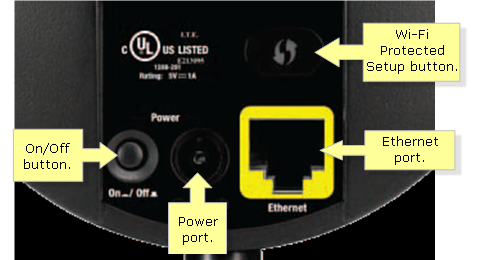 Wi-Fi Protected Setup (Blue) - If you have an Access Point that supports Wi-Fi Protected Setup, then you can use this button to automatically configure the camera's wireless security for your wireless network.
 
On/Off Button - Press the On/Off button to power ON or OFF the device.
Power - The Power port is where you connect the power adapter.
Ethernet - The Ethernet port is where you connect the Ethernet network cable.    
Product Features
Monitor activities in your home from anywhere in the world via the Internet
Integrated web server- viewable from most web browsers
Supports MPEG-4 and MUPEG compression
View video from your Wireless-N or wired Ethernet network
Has Motion Detection and email notification
Creates a database for user authentication
Supports resolution of up to 640x480 pixels
Supports Time Stamp and Text Overlay
Supports up to five simultaneous unicast connections
Multicast Real-time Transfer Protocol (RTP) support that allows multiple users to access the media stream
Supports TZO Dynamic Domain Name System (DDNS) service for dynamic IP connection, 90-day free trial
Multi-platform support – Transmission Control Protocol/Internet Protocol (TCP/IP), Simple Mail Transfer Protocol (SMTP) for email, Hypertext Transfer Protocol (HTTP), Dynamic Host Configuration Protocol (DHCP), and File Transfer Protocol (FTP)
Supports Wired Equivalent Privacy (WEP), Wi-Fi Protected Access (WPA) and WPA2 encryptions
Supports multiple resolution streams – can be used by a computer and Smartphone simultaneously
Includes easy to use multi-camera monitoring utility with Snapshot feature
Minimum Requirements
For Setup
a Windows computer with Internet Explorer 6 or higher for browser-based configuration
a CD or CD/DVD drive and up-to-date Operating System (Windows XP, Vista, Vista 64-bit edition, or Mac OS X 10.4 or higher) for the setup wizard software to run
For Viewing Video
a Windows computer with included Monitoring Utility
Any computer with Internet Explorer 6, Safari 3, or Firefox 3 or higher, or a stream-enabled video player (VLC, Quicktime Player, Windows Media Player version 10 or higher, etc.)
Smartphone with advanced web browser or Real Time Streaming Protocol (RTSP)