Powerline adapters are plug and play devices that let you turn the existing Powerlines in your home or office into a high-speed network.  All you need to do is ensure that they are connected to the same circuit breaker.
QUICK TIP:  PLW400 is a wireless Powerline adapter that will allow you to connect wireless computers and devices to your existing Powerline network.  To learn how to install the PLW400, click here.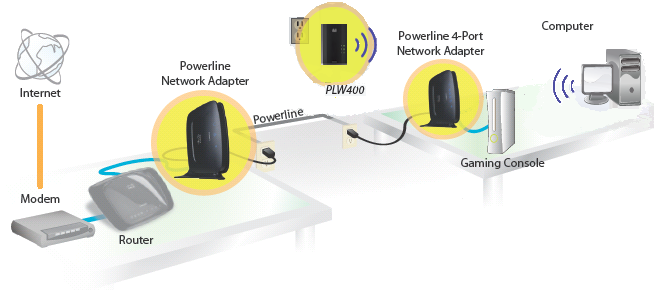 NOTE:  Image may vary depending on the model number of your router and Powerline adapter.
This article will explain the two (2) ways on how to connect computers or other devices to the network using a Powerline adapter.
Without Advanced Security
With Advanced Security
NOTE:  Before proceeding, make sure that you are using the Powerline adapter that is connected to the computer or other devices.
If you did not set up advanced security for the Powerline network, follow the instructions below:
Step 1:
Press the HomePlug Simple Connect

 button on your first Powerline device until the home light begins to blink.
Step 2:
Repeat the same process on the second Powerline device.  When the security is configured, the Powerline LED

on both devices will go back to a solid state.
Step 3:
Connect your computer to the Powerline adapter using an Ethernet cable then check the IP address.  If you have PLW400 on the network, connect the wireless devices to it in the usual manner.
NOTE:  Make sure that your computer is obtaining a valid IP address.  This determines if the Powerline adapter is connected to the network.  To learn how to check your computer's IP address, click here. 
If you have set up advanced security for the Powerline network, check the following:
•  Make sure that adapters on the Powerline network have been configured with the same Network Password.  The Network Password must be identical in order for them to communicate with each other.
•  Ensure that all the lights on the Power Adapter are lit.
NOTE:  If this solution does not work, make sure the electrical outlet is working properly.  Plug a different device into the outlet or plug the Powerline to a different power outlet. 

Related Articles: 

Different Linksys Powerline adapters that can be used for setting up a Powerline network
Setting up the security for the Powerline Fast Ethernet Adapter