The Guest Access feature allows you to create a separate network for your guests without allowing them to access your main network and the computers connected to it.  This feature is automatically enabled and secured by the Linksys Connect software.  However, you can also configure it using the router's web-based setup page.

QUICK TIP:  The Linksys Wi-Fi Routers and Linksys Smart Wi-Fi Routers use the 192.168.3.x network for Guest access.  The IP address ranges 192.168.33.x and 192.168.3.x are not allowed to be used for the primary network.
With Linksys Smart Wi-Fi Routers, the Guest Access feature has now been enhanced.  The number of guest access users allowed has increased from 10 up to 50 users.
NOTE:  Before you can set up the Guest Access settings of your router, you need to access its web-based setup page.  If you are using a Windows computer, click here.  For Mac users, click here.  To access the web-based setup page using Linksys Connect software, click here.
To configure the Guest Access feature of your Linksys Smart Wi-Fi Router using its classic firmware, follow the steps below:
Step 1:
Click the Wireless tab then click the Guest Access sub-tab.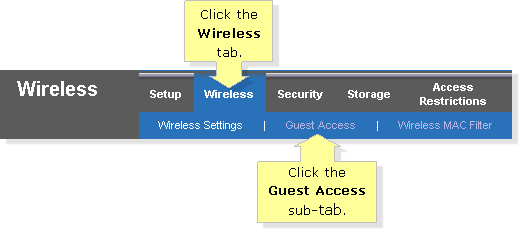 Step 2:
In the Guest Access section, select yes then click Save Settings.  It will show the default password generated during the initial setup of the router.
NOTE:  Click on the Change button if you wish to personalize the password.  A pop-up window will appear where you can change your password.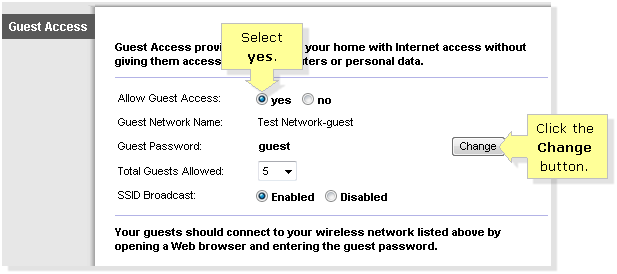 NOTE:  The Guest Network Name will always follow the main network's network name followed by a "-guest" suffix.  If you want to change your Guest Network Name, you have to change your home wireless network name first.
The Linksys Connect software allows 10 guest users.  However, the number of guest users allowed can be increased to 50 if you configure it in the web-based setup page of the router.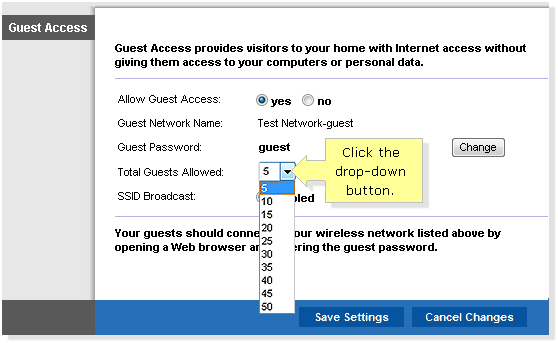 Step 3:
Enter any password you want to set up for your guest network then click Change to apply the settings.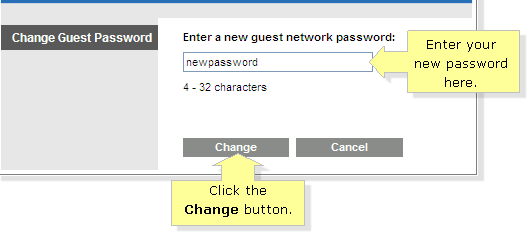 Your guests may now connect to the guest network automatically using that password once they are prompted for one upon launching a web browser (i.e. Internet Explorer).