The
PLEK500
is a Powerline Kit that consists of
two (2)
PLE500
devices.  The PLE500 is a
Powerline Gigabit Ethernet
adapter
that has 
one
(
1)
Ethernet port.  One of these devices is typically used in a Powerline network to connect your network's router to the household wiring.  You can also use one of these in any room to connect one (1) wired Ethernet device to your Powerline network. 
For a video on Powerline adapters, click here.
NOTE:
You can use two (2) or more Powerline adapters to set up a Powerline network.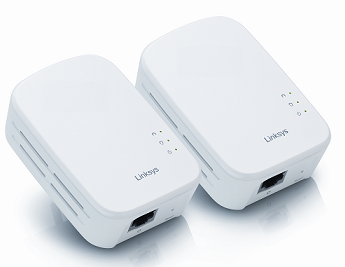 Front Panel
Power (Green) – lights up when the Powerline adapter is powered ON.
Ethernet (Green) – lights up when a wired network device is connected to Ethernet (network) port of the Powerline device.  The LED flashes to indicate network activity.
Powerline (Green) – lights up when the adapter is connected to the Powerline network.  The LED flashes to indicate network activity.
Side Panel
HomePlug Simple Connect Button - configures advanced security (the network password) for your Powerline network.
Bottom Panel
Reset – Restores your Powerline adapter to factory defaults.  To do this, press and hold the Reset button for at least 10 seconds using a pin or a pointed object.
Ethernet - connects a computer or another networking device.
Minimum Requirements
Any computer or other device with Ethernet network adapter
Available AC power outlet
At least one (1) existing Powerline adapter
Windows-based or Mac® computer with CD-ROM for utility or WPS-enabled router
Extending your home network with Powerline adapters 
Setting up a Powerline network is an option to extend your home network.  Click on the links below to know more about Linksys Powerline adapters and Powerline networking.