The Wireless Scheduler feature that is available in some Linksys Smart Wi-Fi routers allow you to turn Off or On the wireless networks, including the Guest networks at chosen times.
 
This article will give you instructions on how to configure the Wireless Scheduler feature.
 
Step 1:
Log in to your Linksys Smart Wi-Fi Account.  For instructions, click 

here

.

Step 2:
Click on Wireless.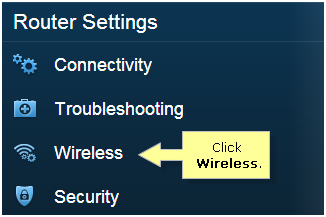 Step 3:
Click the Wireless Scheduler sub-tab.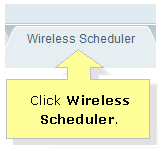 Step 4:
Turn On or Off the access to your wireless networks by clicking a box (or boxes) in the calendar.  White squares indicate that wireless networks are On.  The blue squares, on the other hand, indicate that wireless networks are Off.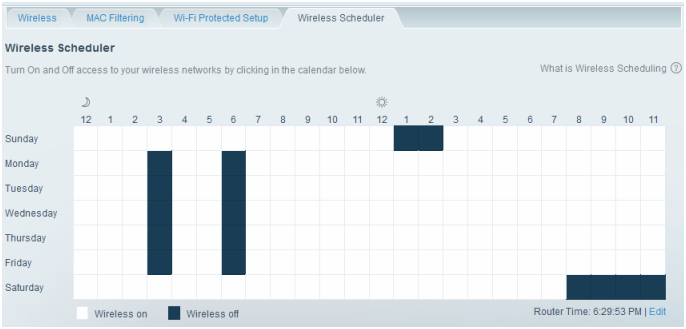 QUICK TIP:  Make sure that the time zone on your router is configured properly in order for the Wireless Scheduler to work according to your chosen time slots.  On the bottom-right hand you will see the current router time, if needed click the Edit button to adjust your router's time.
 
Step 5:
Click 

 to save settings.