Wireless technology
Wireless technology is rapidly replacing the regular wired connections today especially in local home networks.  People mostly prefer their devices to be wireless for mobility and to avoid using unsightly cables.
To make this possible, you need devices such as wireless routers, access points, network adapters and wireless bridges that allow wireless connectivity.  Routers and access points mainly serve as the source of our wireless connection while the network adapters and wireless bridges act as receivers.
Wireless bridge
Due to the increasing demand for wireless connectivity, Linksys developed wireless bridges that will allow any wired device to be a part of your wireless network.  Linksys WES610N and WET610N are Dual-Band N Entertainment Bridges that allow you to connect your Ethernet-enabled devices such as gaming consoles or DVRs to your wireless network.  These are optimized for streaming video and ideal for wirelessly streaming or sharing music, photos, movies, and other files around the home.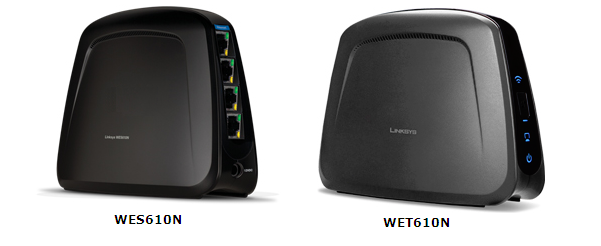 How to use your wireless bridge?
The Linksys wireless bridge is a switch that you connect wirelessly to your home router.  It allows you to expand your existing network by providing more Ethernet ports to allow you to connect more devices to your network wirelessly.  WES610N has four (4) Ethernet ports while WET610N has only one (1).
After synchronizing the wireless settings of the bridge and the router, you can now connect different wired devices to it.  The wireless bridge converts any wired network enabled device with available Ethernet port to the latest wireless technology.  Now you can make wired devices such as printers, wired computers, TVs, Blu-ray Disc™ players, game consoles and even network attached storage wireless. 
Connecting devices to WES610N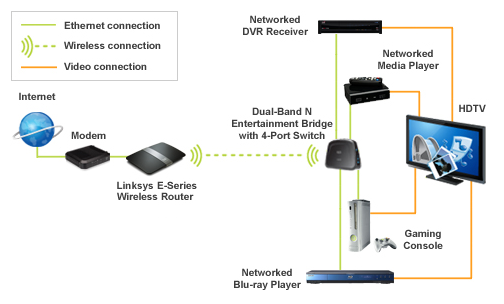 Connecting devices to WET610N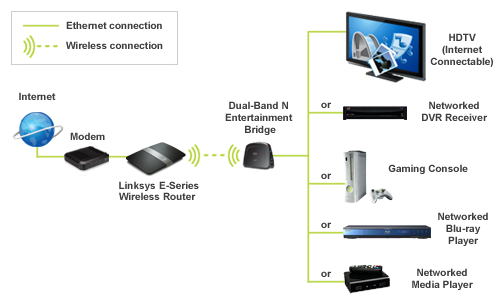 NOTE:  Since the WET610N only has a single Ethernet port, you can connect a switch to allow additional wired connectivity.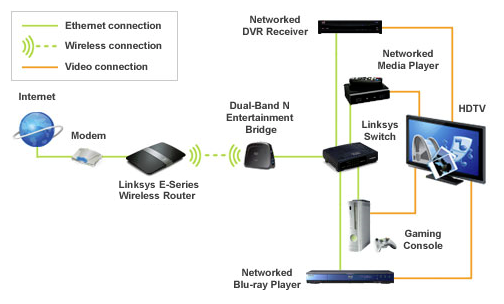 To get the latest networking products from the Linksys Store, click here.

Related Articles:

Wireless Bridge and the WUMC710 (Video)
Linksys WES610N Frequently Asked Questions
WET610N Frequently Asked Questions