When playing videos on any of your wireless devices from online sites or network storage devices, you may experience a dropping connection or choppy video streaming if your wireless settings are not set to its optimum value.

Here are some tips on how to improve your connection for video streaming:
 
Step 1:
Access your router's web-based setup page.  

Step 2:
Go to the Wireless tab and select the Manual configuration.
 

Step 3:
Through the drop-down menu, change the Channel to 1, 3, 6, 9, or 11 for your 2.4 GHz band. 

QUICK TIP:  If you have a Linksys dual-band router, you can also set your 5 GHz band's Channel to 40 or 161.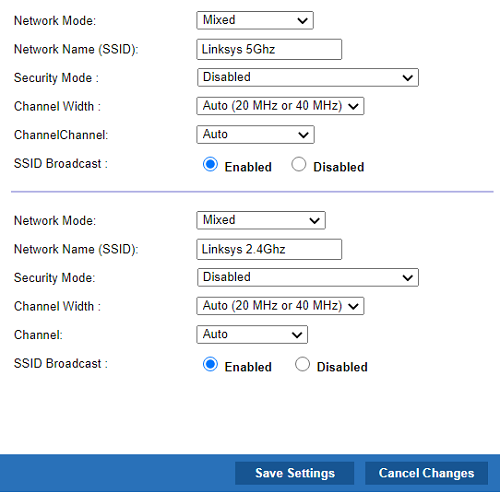 Step 4:
Click Save Settings.
 
Why this works:  Different devices have different standards for their wireless adapters, and to be able to cater to all standards, the Mixed-mode accepts wireless B, G, and N standards for devices.  Changing Channels prevents wireless interference which contributes to lagging or streaming problems.
 
Dual-band routers are afforded with the feature of a 5 GHz band and connecting to this frequency is recommended for media, or if you are transferring music, pictures, and video throughout your home network.  If you are selecting the 5 GHz wireless network, ensure that your wireless devices and adapters have a 5 GHz capability.  Otherwise, do not change the frequency of your router.  
Maximum Transmission Unit (MTU) specifies the largest packet size permitted for internet transmission.  If your MTU is too large or too small for the connection, computers in your network will experience packet loss or dropping internet connection.  
You will see the MTU page similar to the image below on your web-based setup page.  
Wi-Fi Multimedia (WMM) is a wireless QoS feature that improves quality for audio, video, and voice applications by prioritizing wireless traffic.
When you are using the network to access websites, play online games, and stream at the same time, the router has the WMM feature which has the ability to manage data traffic from various applications.
To know how to do this, follow the steps below.
 
Step 1:
Access your router's web-based setup page.  

Step 2:
Click on Applications & Gaming tab and select the QoS sub-tab.
 

Step 3:
Make sure that the WMM Support is set to Enabled.
 
Why this works:  QoS enables Wi-Fi access points to prioritize traffic and optimizes the way shared network resources are allocated among different applications.  Without QoS, all applications running on different devices have equal opportunity to transmit data frames.