El Dynamic Domain Name System (DDNS) (Sistema de nombres de dominio dinámico) (DDNS) es un servicio premium que asigna a su dispositivo un nombre de dominio fijo aunque esté utilizando una dirección IP de Internet dinámica.

Por qué lo necesita?

El DDNS es una buena opción para los usuarios que deseen acceder a sus redes de forma remota, configurar un servidor detrás del router o alojar su propio sitio web, pero conservar la configuración predeterminada del Protocolo de Configuración Dinámica del Host (DHCP) del router en lugar de utilizar un servidor estático Dirección IP.

El DHCP es una función del router que cambia la dirección IP de los dispositivos conectados periódicamente. Esto hace que la red sea inaccesible para los hackers o intrusos ya que no saben cuál es la dirección IP de la red en un momento dado, pero el propietario de la red puede implementar un servicio DDNS para que pueda acceder a la red en cualquier momento.

NOTA: Para utilizar la función DDNS de su router, comience inscribiéndose con un proveedor de DDNS como
www.dyndns.org
. Los routers de Linksys sólo admiten proveedores de servicios DynDNS y TZO.

Para saber cómo configurar un servicio DDNS, siga el procedimiento siguiente:

NOTA: Esta característica no está disponible en la aplicación de Linksys.
Paso 1:
Inicie sesión en su cuenta en la nube de Linksys. Para instrucciones, haga clic aquí.

Paso 2:
En el panel de navegación en Router Settings (Configuración del router), haga clic en Security (Seguridad).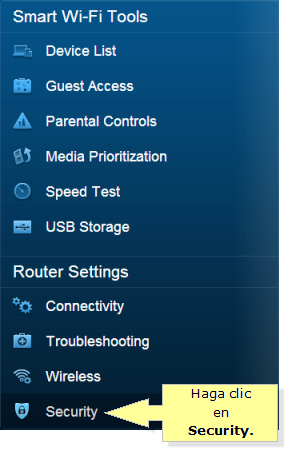 Paso 3:
En la pantalla Seguridad, haga clic en la pestaña Apps and Gaming (Aplicaciones y juegos).
 
 
Paso 4:
Seleccione su proveedor en el menú desplegable. En este ejemplo, usaremos la opción DynDNS.org.
 

Paso 5:
Rellene los campos para Username, Password, and Host name (Nombre de usuario, Contraseña y Nombre de Host). Puede consultar su cuenta de DynDNS.org para esto. Asegúrese de seleccionar también el System (Sistema) actual en la forma en que genera la dirección IP, ya sea dinámica, estática o personalizada. Una vez hecho esto, haga clic en el botón Update (Actualizar).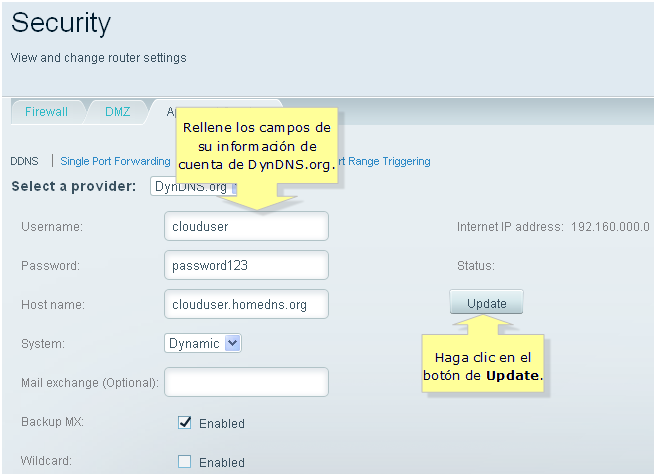 Paso 6:
Una vez que vea el estado de Success (Éxito), ha implementado correctamente el servicio DDNS en su router. Haga clic en el botón Apply (Aplicar) para guardar todos los cambios y haga clic en Ok para salir.
 
 
Asegúrese de haber introducido correctamente los valores de la información de su cuenta DDNS. El roture no podrá vincular correctamente al servicio DDNS si hay información incorrecta en los detalles de la cuenta.