La configuración del Linksys EA9500 y Linksys EA9400 es fácil de usar con el Smart Setup Wizard (Asistente de Configuración Inteligente) que está incorporado en el firmware del router y está disponible incluso si el router no tiene una conexión a Internet, o el router tiene la configuración predeterminada de fábrica.

NOTA: Antes de comenzar la configuración, asegúrese de que su router esté listo. El tiempo de arranque del sistema del router es de aproximadamente 90 segundos. Sabrá cuándo el router está listo en función de los LED de su panel superior. Verá ocho (8) barras blancas sólidas con el logotipo de Linksys. Si las barras blancas parpadean rápidamente, espere hasta que permanezcan sólidas.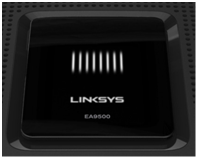 Los siguientes requisitos se deben cumplir para evitar cualquier problema durante toda la configuración:

Configuración de la computadora:
La versión más reciente de Internet Explorer®, Google Chrome®, Mozilla Firefox, Safari® (para Mac® ó iPad®), Microsoft Edge®
Último Adobe® Flash® Player.
 
Paso 1:
Conecte su computadora inalámbrica al nombre predeterminado de la red inalámbrica (SSID). Los SSID predeterminados son Linksysxxxxx y Linksysxxxxx_5GHz, en los que las xxxxx son los últimos cinco (5) dígitos del número de serie, mientras que la contraseña inalámbrica se genera de forma aleatoria. Estas credenciales están disponibles en la Guía de inicio rápido y también están impresas en la etiqueta en la parte inferior del router.

NOTA: Si necesita configurar el router utilizando una computadora con cable, conecte su computadora a uno de los ocho (8) puertos Ethernet en la parte posterior del router.

Paso 2:
Abra su navegador web e introduzca "linksyssmartwifi.com" en la barra de direcciones, luego presione [Enter] [Entrar].

NOTA: Usted también puede introducir "192.168.1.1" ó "myrouter.local".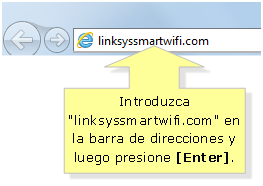 Paso 3:
Marque la casilla al lado de I have read and accepted the License Terms for using this software (He leído y aceptado los Términos de Licencia para utilizar este software), luego haga clic en Next (Siguiente) para continuar.

NOTA: Haga clic en el enlace provisto para leer más acerca de los términos de licencia e información adicional. Si usted prefiere configurar el router manualmente, marque la casilla junto a I want to skip Setup and configure my router manually (Quiero omitir la instalación y configurar mi router manualmente).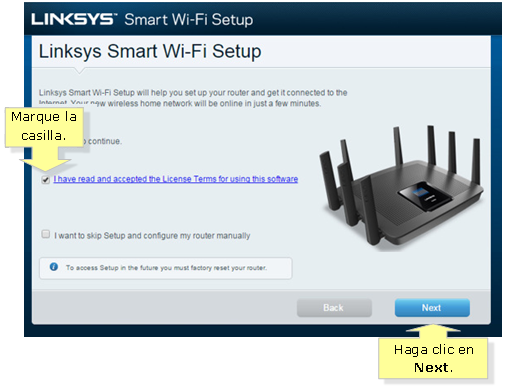 Paso 4:
La configuración inteligente comenzará ahora a detectar su conexión a Internet.

NOTA: Si no se detecta una conexión a Internet, puede recibir ciertos mensajes dependiendo del problema encontrado, como Your Internet cable is not connected correctly (Su cable de Internet no está conectado correctamente). Siga los pasos sugeridos para solucionar problemas y luego haga clic en Next (siguiente).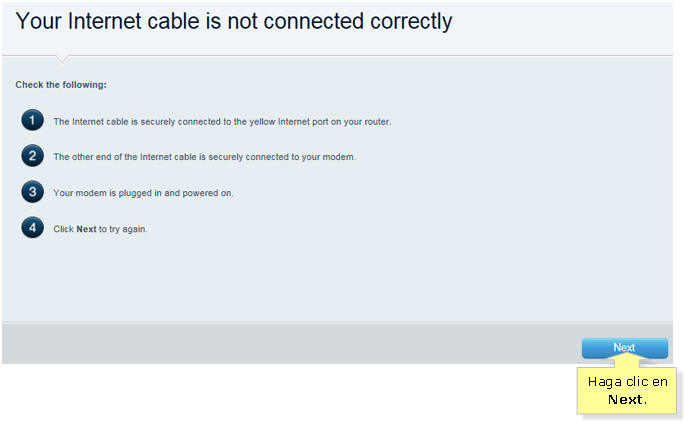 Para los clientes de Digital Subscriber Line (DSL) (Línea digital de abonado - DSL), la instalación les pedirá un Account name (Nombre de cuenta) de PPPoE y una Password (Contraseña) del proveedor de servicios de Internet (ISP). Introduzca la información necesaria y luego haga clic en Next (Siguiente) para continuar.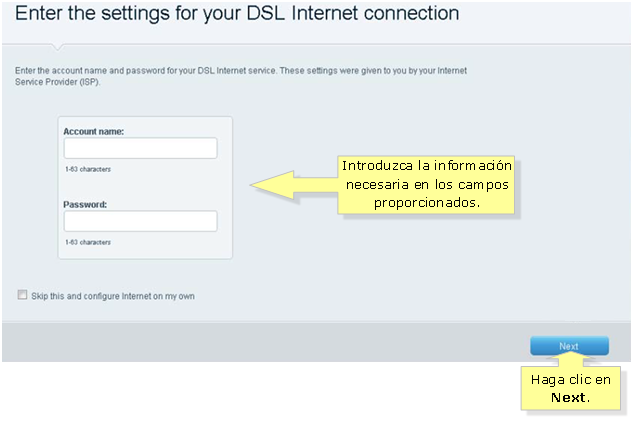 NOTA: Una vez configurada la conexión, el router comprobará actualizaciones del firmware.

Paso 5:
En las Updates for your router (Actualizaciones para su router), la opción Install future router updates automatically (recommended) (Instalar actualizaciones futuras del router automáticamente) (recomendado) está marcada por defecto; esto permite actualizaciones automáticas en el futuro. Haga clic en Next (siguiente) para continuar. Siempre puedes cambiar esta opción más tarde.

Paso 6:
Ingrese su Network Name (Nombre de red) inalámbrico deseado y Network Password (Contraseña de red) inalámbrico. Esto se aplicará a redes de 2,4 GHz y 5 GHz en los campos proporcionados y luego haga clic en Next (siguiente). Si necesita cambiar el nombre deun nombre de red inalámbrico único para su red de 5 GHz, puede hacerlo después de la configuración iniciando sesión en la interfaz web.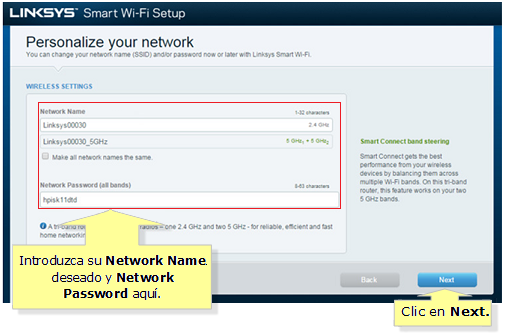 Paso 7:
Cree una contraseña del router y una sugerencia de contraseña y haga clic en Next (Siguiente).

NOTA: Esta es solo la contraseña del router de administración local.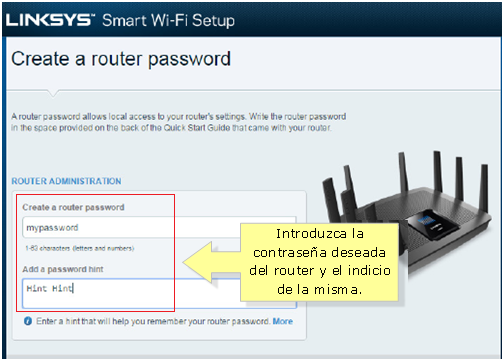 NOTA: La sugerencia de contraseña es visible cuando inicia sesión localmente en el router, por lo que debe asegurarse de no utilizar su contraseña real. Después de la configuración, su sugerencia de contraseña ahora está disponible en la herramienta de Connectivity (Conectividad) de su cuenta Linksys Smart Wi-Fi. También puede cambiar la sugerencia de contraseña en cualquier momento, haga clic
aquí
para obtener instrucciones.
Su router ahora está configurado. Se mostrarán las nuevas configuraciones Wi-Fi y la contraseña de administrador del router. Haga clic en

 (siguiente) para completar toda la configuración.
IMPORTANTE: Asegúrese de escribir la nueva configuración para futuras referencias.
 
Después de hacer clic en Next (Siguiente), se le redirigirá a la página de Create Your Linksys Smart Wi-Fi Account (Crear su Cuenta Linksys Smart Wi-Fi). Para obtener instrucciones paso a paso sobre cómo hacer esto, haga clic
aqui
.


Artículos relacionados:
Guía del usuario EA9500