La configuración de los Linksys Max-Stream MU-MIMO Tri-Band Router es más fácil usando el Asistente de Configuración Inteligente que está integrado en el firmware de los routers. Este artículo lo guiará para configurar los siguientes routers:
 
Router Wi-Fi tribanda AC2200 Max-Stream Linksys EA8300

Router Wi-Fi 5 MU-MIMO tribanda AC2150 Max-Stream Linksys EA8250
Antes de comenzar:
   
Asegúrese de tener una conexión a Internet en funcionamiento.

Si está reemplazando su router existente, asegúrese de desconectarlo y apartarlo.

APAGUE su módem y conecte el cable de ethernet del módem al puerto de Internet del router. Luego, encienda el módem.

Conecte el adaptador de corriente al router y ENCIENDALO.

Espere hasta que la luz del logotipo de Linksys esté fija. Para saber más sobre el comportamiento de las luces indicadoras del router, haga clic

aquí

.
Paso 1:
Conecte una computadora, tablet ó smartphone al Wi-Fi predeterminado de su router. Las credenciales del Wi-Fi se encuentran en una etiqueta en la parte inferior del dispositivo. 
NOTA: Si necesita configurar el router utilizando una computadora cableada, conecte su computadora a uno de los puertos de Ethernet numerados en la parte posterior del router.
Paso 2:
Abra un navegador web e ingrese "http://LinksysSmartWifi.com" en la barra de direcciones y luego presione [Enter] [Entrar]. También puede usar "myrouter.local" ó "http://192.168.1.1" (la dirección IP predeterminada del router).
NOTA: Si tiene problemas para acceder a las direcciones anteriores, compruebe que se cumplan los requisitos anteriores. Es posible que tenga que restablecer el router a los valores predeterminados de fábrica si los problemas persisten. Para ello, mantenga pulsado el botón de reinicio hasta que el logotipo de Linksys se APAGUE.
Paso 3:
Marque la casilla al lado de I have read and accepted the License Terms for using this software (He leído y acepto los Términos de Licencia para el uso de este software). Haga clic en Next (Siguiente).
NOTA: Abra el enlace para leer los License Terms (Términos de la Licencia) y otra información. Si prefiere configurar manualmente el router, haga clic en Manual configuration (Configuración manual).
Paso 4:
El asistente de configuración comenzará a verificar el router y la conexión a Internet. 
Paso 5:
Las actualizaciones para su enrutador están habilitadas de forma predeterminada para permitir actualizaciones automáticas en el futuro. Puede deshabilitar ó habilitar esta opción más adelante en la Herramienta de Conectividad de la página de configuración basada en la web del router. Haga clic en Next (Siguiente).

Paso 6:
Introduzca su Wi-Fi Name (Nombre Wi-Fi) y Wi-Fi Password (Contraseña Wi-Fi). Estos se aplicarán en las tres bandas. Haga clic en Next (Siguiente).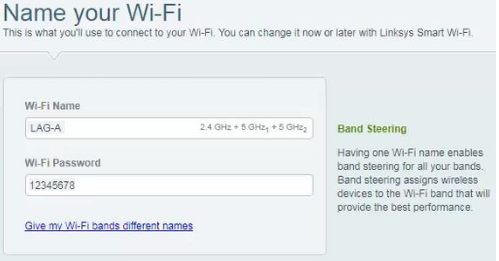 NOTA: Si necesita crear nombres únicos para cada una de sus bandas de 2.4 GHz y 5 GHz, haga clic en Give my Wi-Fi bands different names (Dar a mis bandas Wi-Fi diferentes nombres), sin embargo, esto deshabilitará la dirección de banda en la banda de 2.4 GHz. Para saber más sobre las opciones de dirección de la banda en su router, haga clic
aquí
.
Paso 7:
Conéctese a su Wi-Fi. Ahora que su router tiene un nuevo nombre y contraseña de Wi-Fi, necesitará conectar su dispositivo inalámbrico a su nueva red Wi-Fi para continuar con la configuración. Haga clic en Next (Siguiente).

NOTA: Si está utilizando una computadora con cable, el asistente de instalación procederá al siguiente paso.
Paso 8:
Crea una contraseña para el router y una sugerencia de contraseña opcional y luego haga clic en Next (Siguiente). 
  
NOTA: Esta es la contraseña de administrador local de su router.
Paso 9:
Your router is set up!  (Su router está configurado!).  En esta pantalla, verá la configuración actual de su router. Escríbalos ó imprima esta página para usarla en el futuro. Haga clic en Next (Siguiente).

Paso 10:
Crea su cuenta en la nube de Linksys ó haga clic en Sign In (Iniciar sesión) si ya tiene una cuenta ó haga clic en No thanks (No, gracias) para omitir este paso. 
NOTA: Saltarse este paso significa que solo puede iniciar sesión en el router localmente, no podrá iniciar sesión de forma remota sin una cuenta en la nube de Linksys. Si omite este paso, siempre puede crear una cuenta más adelante. Para obtener instrucciones, haga clic
aquí
.