Un Ping test (test de Ping) permet de suivre la communication entre l'ordinateur ou le routeur et les sites Web ou périphériques connectés au réseau.  La commande Ping peut également être utilisée pour le dépannage afin de tester la connectivité et de mesurer le temps de réponse.
Cet article décrit les étapes à suivre pour effectuer un test de Ping sur votre compte cloud Linksys.  Suivez les étapes ci-dessous pour en savoir plus :
Etape 1:
Lancez un navigateur Web et accéder à votre compte cloud Linksys.  Pour savoir comment procéder, cliquez 

ici

.
Etape 2: 
Dans le panneau de navigation, sous Router Settings (Paramètres du routeur), cliquez sur Troubleshooting (Dépannage).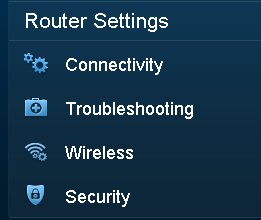 Etape 3:
Cliquez sur Diagnostics.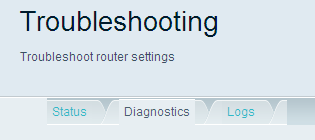 Etape 4:
Entrez IP or host name (l'adresse IP ou le nom d'hôte) du site Web ou des périphériques que vous souhaitez tester et sélectionner le Number to ping (Numéro souhaité pour effectuer un ping).  Cliquez sur le bouton 

 pour lancer le test.
ASTUCE:  Le Number to ping (Nombre de Ping) est le nombre de fois que votre ordinateur cherche des réponses de la part d'un site Web ou d'un périphérique spécifique.  Vous pouvez décider du nombre de réponses souhaité (5, 10, 15 ou Unlimited (Illimité)).  Il est défini sur 5 par défaut.
REMARQUE:  Le site Web yahoo.com est utilisé ici à titre d'exemple.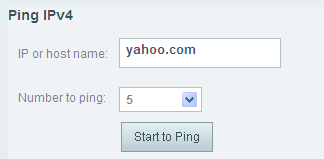 La fenêtre ci-dessous s'affiche alors, montrant les résultats du test Ping.
REMARQUE:  Si les cinq (5) paquets envoyés sont reçus, alors la connexion fonctionne bien.  Tout paquet perdu peut indiquer des problèmes de connexion.  Si aucun paquet n'est reçu, les réponses sont soit « Destination Host unreachable » (Destination hôte inaccessible), soit « Request Timed Out » (Dépassement du délai de la demande).  Ceci peut indiquer que votre connexion n'est pas correctement routée.  Pour en savoir plus sur les résultats courants du Ping, cliquez

ici

.
Extension de votre réseau

Vous pouvez étendre la portée de votre réseau Wi-Fi en utilisant d'autres périphériques réseau de Linksys tels que des commutateurs, des adaptateurs powerline, des ponts sans fil, et des amplificateurs de signal.  Pour en savoir plus, cliquez

ici

.