La configuration du Linksys EA9500 et Linksys EA9400 est facile en utilisant l'Assistant Smart Setup qui est intégré dans le firmware (micrologiciel) du routeur et est disponible même si le routeur n'a pas encore de connexion Internet ou si le routeur a les paramètres d'usine par défaut.

REMARQUE:  Avant de commencer l'installation, assurez-vous que votre routeur est prêt.  Le temps du système de démarrage de ce routeur est d'environ 90 secondes.  Vous sauriez quand le routeur est prêt en fonction de ses voyants LED du panneau supérieur.  Vous verrez huit (8) barres blanches pleines avec le logo de Linksys.  Si les barres blanches clignotent rapidement, attendez qu'elles restent fixes.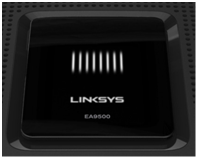 Les exigences suivantes doivent être respectées pour éviter des problèmes lors de l'installation entière:

Configuration de l'ordinateur:
Dernière version d'Internet Explorer®, Google Chrome®, Mozilla Firefox®, Safari® (pour Mac® ou iPad®), Microsoft Edge

Dernière version d'Adobe® Flash® Player
Étape 1:
Connectez votre ordinateur sans fil aux SSID par défaut qui sont Linksysxxxxx et Linksysxxxxx_5GHz où xxxxx correspond aux cinq (5) derniers chiffres du numéro de série, tandis que le mot de passe sans fil est généré de manière aléatoire.  Ces informations d'identification sont disponibles sur votre guide de démarrage rapide et également imprimées sur l'étiquette au bas du routeur.

REMARQUE:  Si vous avez besoin de configurer le routeur en utilisant un ordinateur câblé, brancher votre ordinateur dans l'un des huit (8) ports Ethernet à l'arrière du routeur.

Étape 2:
Lancez un navigateur web et saisissez « linksyssmartwifi.com » dans la barre d'Adresse, puis appuyez sur [Enter] [Entrée].

REMARQUE:  Vous pouvez également entrer « 192.168.1.1 » ou « myrouter.local ».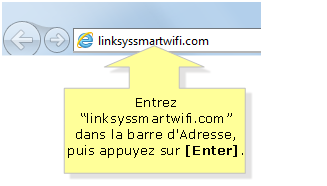 Étape 3:
Cochez la case à côté de I have read and accepted the License Terms for using this software (J'ai lu et accepté les Conditions de licence pour l'utilisation de ce logiciel), puis cliquez sur Next (Suivant) pour continuer.

REMARQUE:  Cliquez sur le lien fourni pour en savoir plus sur les conditions de licence et d'autres informations.  Si vous préférez configurer manuellement le routeur, cochez la case à côté de I want to skip Setup and configure my router manually (Je veux sauter installer et configurer mon routeur manuellement).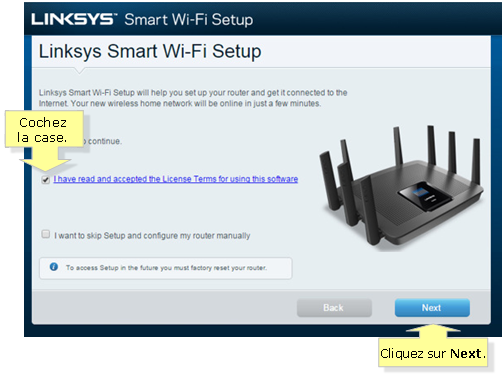 Étape 4:
Le Smart Setup (Configuration Intelligente) va maintenant commencer à détecter votre connexion Internet.

REMARQUE:  Si une connexion Internet n'est pas détectée, la fenêtre de Your Internet cable is not connected correctly (le câble de votre Internet n'est pas connecté correctement) apparaîtra.  Suivez les étapes de dépannage proposées pour résoudre votre problème de connexion, puis cliquez sur Next (Suivant).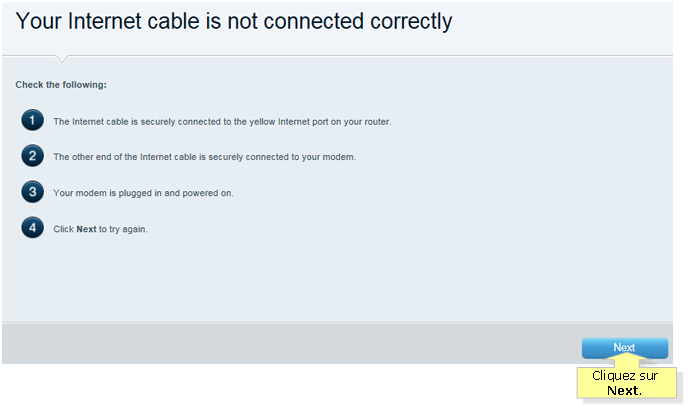 Pour les utilisateurs Digital Subscriber Line (DSL), la configuration vous demandera un Account name (Nom de compte) et Password (Mot de passe) PPPoE de votre Fournisseur de services Internet (ISP).  Entrez les informations nécessaires, puis cliquer sur Next (Suivant) pour continuer.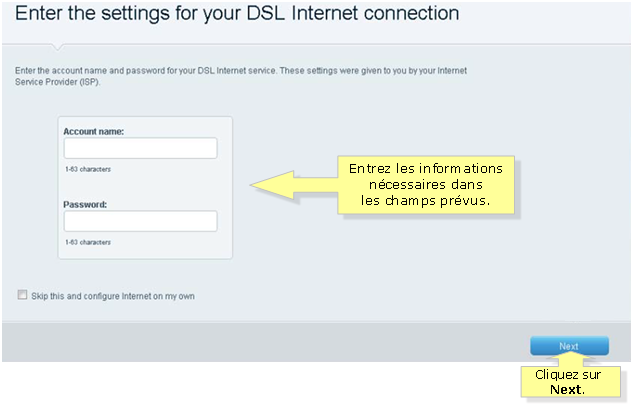 REMARQUE:  Une fois que la connexion est établie, votre routeur va vérifier les mises à jour du micrologiciel.

Étape 5:
Dans la fenêtre de Updates for your router (Mises à jour pour votre routeur), cochez la case Install future router updates automatically (recommended) (Installer automatiquement les futures mises à jour du routeur (recommandé)); cela permet des mises à jour automatiques à l'avenir.  Cliquez sur Next (Suivant) pour continuer.  Vous pouvez toujours changer cette option plus tard.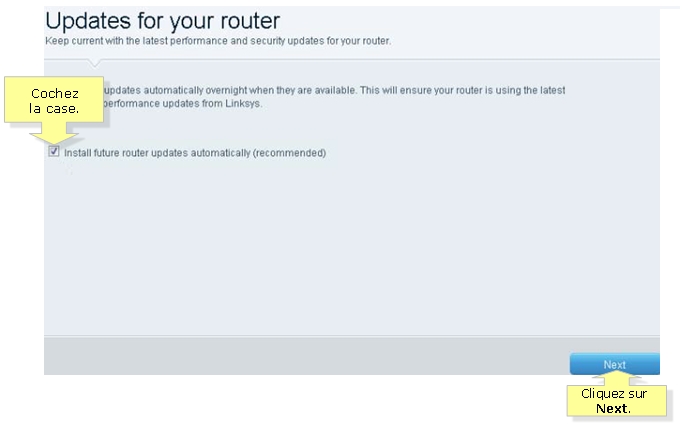 Étape 6:
Entrez votre Network Name (Nom de Réseau) sans fil et votre Network Password (Mot de passe Réseau) sans fil.  Cela s'appliquera aux réseaux 2,4 GHz et 5 GHz dans les champs fournis, puis cliquer sur Next (Suivant).  Si vous devez renommer un nom de réseau sans fil unique pour votre réseau 5 GHz, vous pouvez le faire après l'installation en vous connectant à l'interface Web.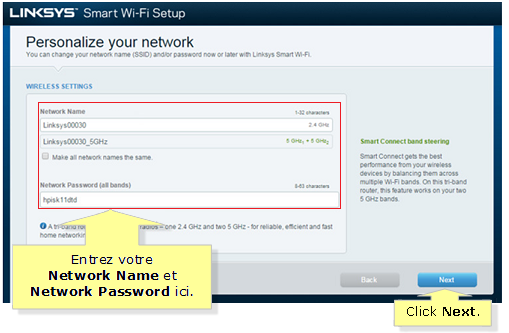 Étape 7:
Créez un mot de passe et indice de mot de passe du routeur, puis cliquez sur Next (Suivant).

REMARQUE:  Ceci est uniquement le mot de passe administrateur local de votre routeur.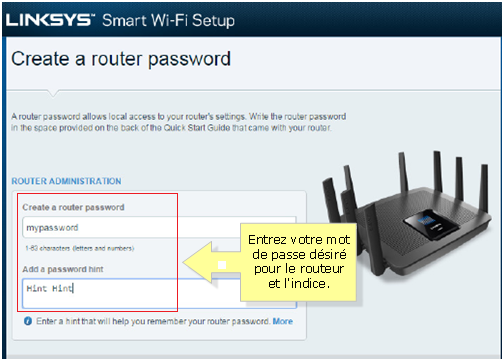 REMARQUE:  L'indice de mot de passe est visible lorsque vous vous connectez localement au routeur, alors assurez-vous de ne pas utiliser votre mot de passe réel.  Après la configuration, votre indice de mot de passe est maintenant disponible sur l'outil de Connectivity (Connectivité) de votre Compte Linksys Smart Wi-Fi.  Vous pouvez également modifier l'indice de mot de passe à tout moment, cliquez 
ici
 pour les instructions.
Votre routeur est maintenant correctement configuré.  Les nouveaux paramètres Wi-Fi et le mot de passe admin du routeur seront affichés.  Cliquez sur 

 (Suivant) pour completer l'installation entière).
IMPORTANT:  Assurez-vous que vous écrivez les nouveaux paramètres pour référence future.
Après avoir cliqué sur Next (Suivant), vous serez redirigé vers la page Create Your Linksys Smart Wi-Fi Account (Créer votre Compte Linksys Smart Wi-Fi).  Pour obtenir des instructions étape-par-étape, cliquez
ici
.


Article Connexe: