Setting up your Linksys EA6500 AC1750 Dual-Band Smart WiFi Wireless Router​ is easy using the Linksys Smart WiFi Router Setup Wizard.  You can find this software on a Setup CD bundled with every purchase of the router.  This article will provide you with step-by-step instructions on how to properly set up the router and other requirements needed for the process.  For video instructions, click here instead.

NOTE:  If you lost the Setup CD, click here to download the Setup Software for Linksys EA6500.

Requirements before setting up your Router
Setting up your Router
Troubleshooting

Requirements before setting up your Router
The following requirements should be met to avoid any problems during the whole set up process:
•  For your computer – Check the web browser and operating system that your computer is using and make sure that it falls under the list provided below.
 Web Browser
 Windows® OS (For Printer Utility)

Mac OS X® 

(For Printer Utility)

Internet Explorer® 6 or later

Windows XP with Service Pack 3

Tiger 10.4.11

Safari® 3 or later

Windows Vista® with Service Pack 1 or higher

 Leopard 10.5.8

Firefox® 2 or later

Windows 7

Snow Leopard 10.6.x

Google Chrome™

 Windows 8

 Lion 10.7

 

Windows 8.1

 Mountain Lion 10.8

 

Windows 10

Mavericks 10.9

 
 

Yosemite 10.10
•  Materials for set up – You should have the following items:
o  A Linksys EA6500
o  Two Internet/Ethernet (RJ-45) cables
o  One Setup CD or the downloaded Setup Software
o  A computer with an Ethernet port
My computer does not have wireless capability, can I still use this router?  Yes.  You can connect the computer to the router directly by using an Ethernet cable.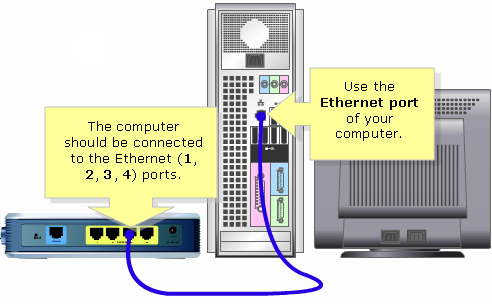 QUICK TIP:  If you want to add wireless functionality to your non-wireless computer, you may connect and install a wireless adapter.

•  Verify your Internet connection – To check if you are able to access the Internet, connect the modem to the computer using an Ethernet cable.  Refer to the image below for an example.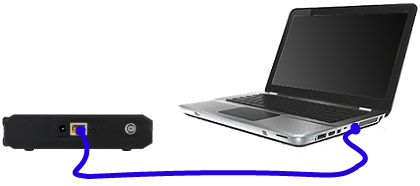 I don't have a modem.  Are there any other alternatives?  Yes.  What you can do is connect the cable (also called a patch or a fiber optic cable) provided by your Internet Service Provider (ISP) directly to the computer's Ethernet port.
Once you have everything listed above, you may proceed with the set up:
Step 1:
Insert the Linksys Smart WiFi Router Setup CD in your computer's CD drive.  Once a pop-up window appears, click on Set up your Linksys Router.
 
What should I do if the pop-up window does not appear?
If there is no pop-up window, double-click on the Computer 

icon on your Desktop.  Look for this 

icon then double-click it.  This should immediately start the setup process.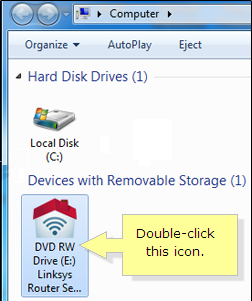 Step 2:
Check the box beside I have read and accepted the License Terms and select a Language.  Click Next to proceed.
NOTE:  Click on the links provided to read more about license terms and other information.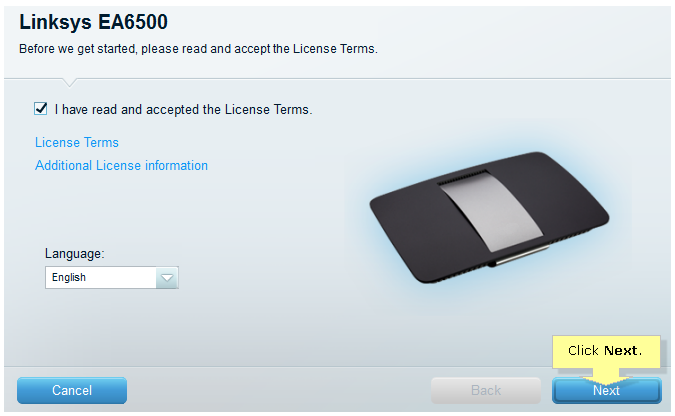 Step 3:
Connect your Linksys EA6500.  Follow instructions 1 and 2 on the setup screen then click Next.
NOTE:  You may see a Please wait… message.
QUICK TIP:  If you need more help, click on the Show me how button.  This will provide you with step-by-step instructions on how to connect your router to the computer.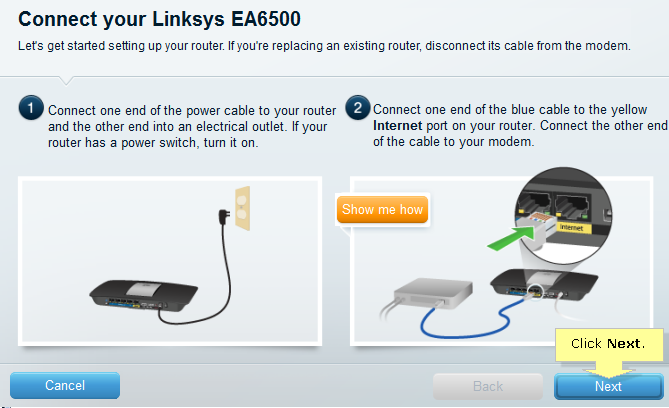 The succeeding window will inform you that the setup process is running.  Do not close this window.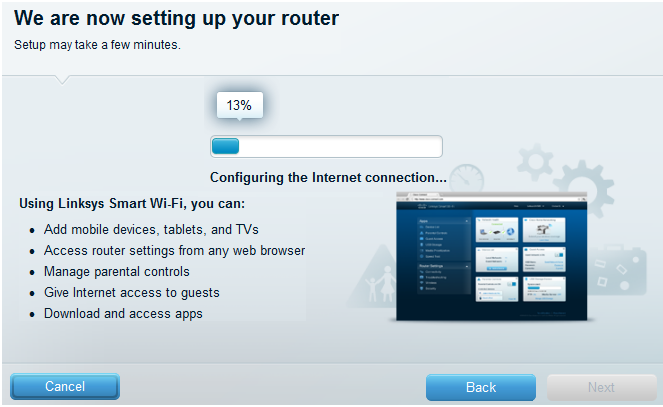 Step 4:
Another window will appear, providing you with your Wireless network name (SSID), Wireless password and Router password.  The Setup Wizard automatically generates these values.  However, it is highly recommended that you change them immediately according to your preference.  This is to avoid any compromise with regards to your network security.  Once you have changed the settings, click Next.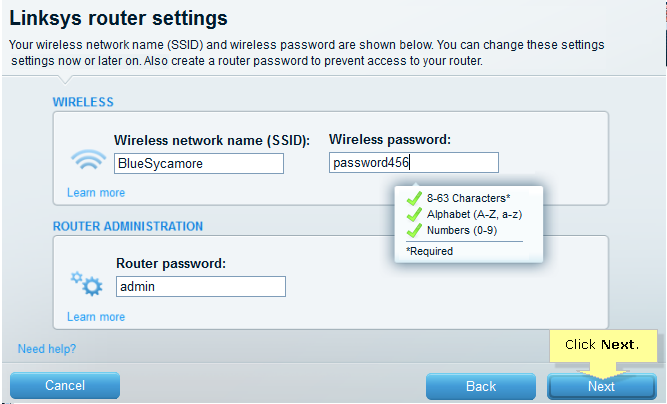 Step 5:
The Linksys Smart WiFi Router Setup Wizard will continue with the installation by identifying the type of Internet connection being used.
NOTE:  If you are subscribed to a DSL connection, a new window may appear and would ask you for some user account details.  Enter your account details then click Next once done.  You may ask your ISP for these.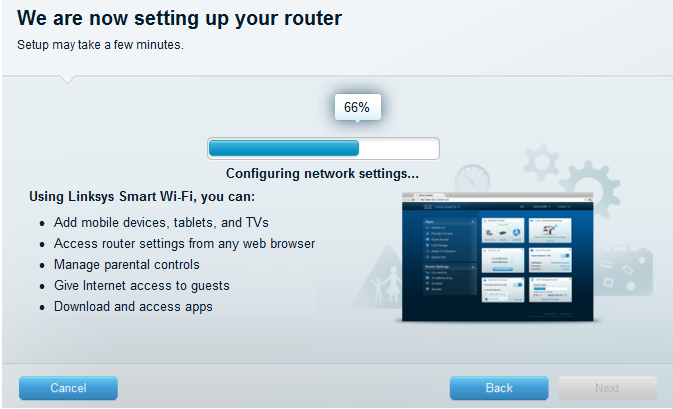 Step 6:
Your router installation will be finalized at this point.  Wait for the confirmation window to appear, informing you that you have been connected to the Internet then click Next.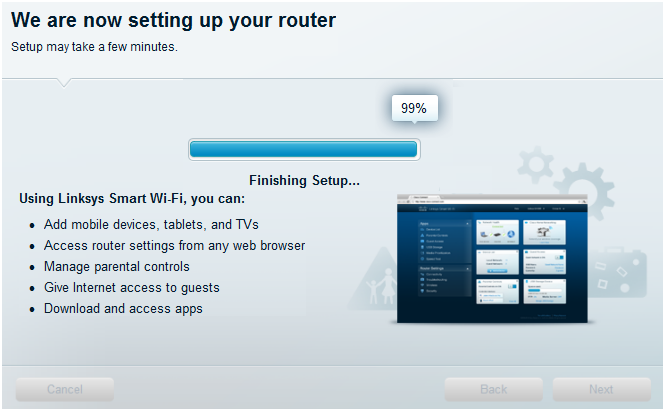 Step 7:
At this point, you will see a message saying that your router has been set up successfully.  Click Close.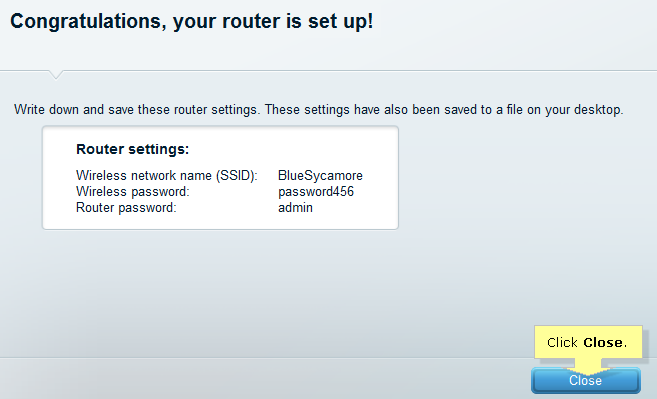 Step 8:
Click Continue to create your Linksys cloud account.
QUICK TIP:  Having a Linksys cloud account will allow you to view your network remotely along with other great features.
NOTE:  You may opt to skip setting up an account by checking the box beside the No thanks text.  Click Continue then click Close on the next window to finish the setup.
To know how to create a Linksys cloud account, click here.

Troubleshooting
If the set up fails, here are some of the possible troubleshooting steps you can take to resolve the issue.
• Reset the router - Press the Reset button for 10 seconds to reset the device.  Then, powercycle by unplugging the power cord from the router for 10 seconds then plug it back in.
• Disabling the Windows Firewall - Another option is to ensure that the firewall of your computer is disabled.  After your Linksys Connect has been installed, make sure to re-activate your firewall in order to fully protect your computer and network.  Once done, you can repeat the installation process (refer to Step 1). 
Your Linksys Connected Home
Experience the ease of connecting wireless electronic devices to your Linksys Smart WiFi Router using the Linksys cloud account.  To know more about this, click here.


Related Article:

Setting up your Linksys Wi-Fi Router without a Setup CD


Related Video:

Wireless-AC and the Linksys EA6500 Router (VIDEO)