What are the benefits of having a Linksys cloud account?
 
A Linksys cloud account enables you to easily set up and manage devices and home appliances connected to your Linksys Smart Wi-Fi Router.  On the Linksys cloud account interface, you can set up wireless security which gives you control on the wireless settings you need for your home network.  You can also check and edit wireless network settings, Parental Controls, Guest Access, and more.
 
Before you can update to the Linksys cloud account, you need the following:
 
• Linksys Connect 1.4 installed on the computer
• Active Internet connection
IMPORTANT:  To avoid any issues with accessing the router using your Linksys cloud account, make sure that the router's firmware is up-to-date.  Click
here
to learn more about checking the firmware version of your router and Linksys Smart Wi-Fi system requirements.  You can also check your router's product page on
Linksys Support page
for the latest firmware updates.
 
Updating to Linksys cloud account
Step 1:
Launch the Linksys Connect software 

on your computer.
Step 2:
A popup window will then appear indicating that there is an available update for the router.  Select the Update now option and click OK.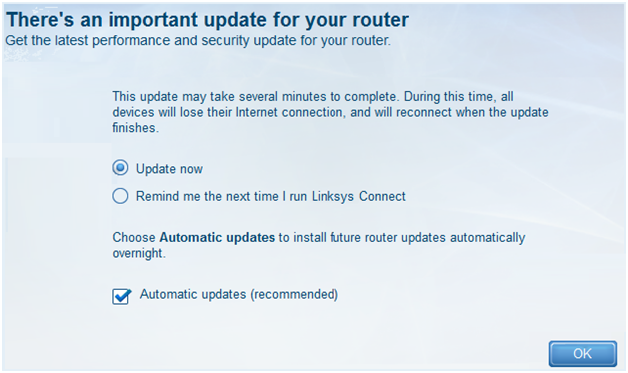 Step 3:
Read the important notes on the Before we get started window and click

 

once done

.
 
QUICK TIP:  The succeeding windows will show that your router is updating to the Linksys cloud account.
 
Step 4:
When the Introducing Linksys Smart Wi-Fi screen appears, click OK.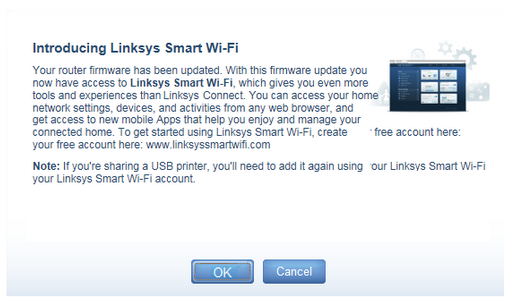 Step 5:
The page where you can create the Linksys cloud account will appear.  Enter the necessary information in the fields provided.
 

 
Step 6:
Tick the box beside the I have read and accepted the End User License Agreement, Terms of Service, and Privacy Statement text.
 
NOTE:  Clicking the Send me information about Linksys products, services, and special offers box is optional.
 

Step 7:
Click

. 

You will receive a notification prompting you to check your email for the activation link.  Proceed below to learn how to activate your Linksys cloud account.


 
Step 8:
Access the email address you used to create the account.  Open the message from Linksys Smart Wi-Fi Mail.
 
NOTE:  If the message is not found in your Inbox, check the Junk or Spam folders.

Step 9:
Click the link to activate the Linksys cloud account you just created.  This will open a new window that will take you to the Linksys Smart Wi-Fi login page.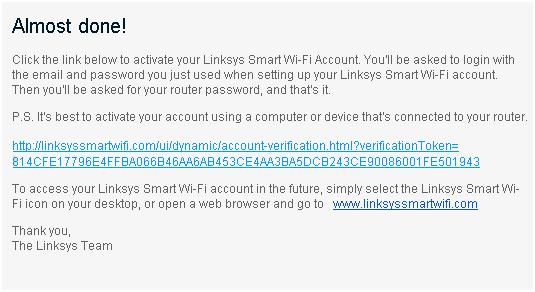 Step 10:
The login page of the Linksys cloud account will appear.  Enter your account's Email Address and Password then, click Sign In.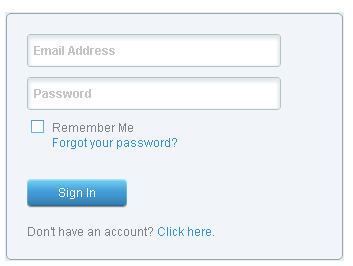 Step 11:
Associate your router to your account by entering your Router Password in the space provided.  The Router Password can be found in the notepad automatically saved on your desktop after setting up your router with the Linksys Smart Wi-Fi setup wizard.  Click Ok.
 
IMPORTANT:  Router association can only be performed when you are locally accessing your router either through a wired or wireless connection.  Associating your account remotely is not possible.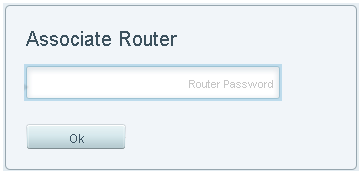 You have now successfully created your Linksys cloud account and associated it with your Linksys Smart Wi-Fi Router.
 
NOTE:  Device List is displayed as Network Map Tool among the latest Linksys Smart Wi-Fi Routers while USB Storage is referred as External Storage.
Expanding your network
You can also extend the range of your wireless network, especially in situations that require you to do so.  This is through the use of other networking devices from Linksys like switches, Powerline adapters, wireless bridges and range extenders.  More of the different devices you can use to extend your network can be read by clicking on the link below.
Different devices you can use to extend your network