The Linksys Connect software has the capability to update the router's software and firmware automatically.  Keeping the firmware on your device updated will help it function more efficiently and fix issues you may have experienced while using it.
 
This article will guide you on how to update Linksys Connect and your router's firmware to its latest version.
 
IMPORTANT:  To prevent upgrade failures, the following items must be checked before proceeding with the upgrade process.
For stable connectivity and to prevent upgrade failures, make sure that your computer is connected to the router using an Ethernet cable.  Upgrading the firmware wirelessly may cause permanent damage to the router if the Internet connection becomes unstable during the process.
Use another browser if your default browser doesn't work.  Alternatively, you can use another computer to perform the upgrade.
Temporarily disable any computer firewall to ensure that the upgrade will not be disrupted.
Only download the specific firmware and version for your device.  For example, if your router's hardware version is 2, only download and upgrade the firmware for a v2 router.  To learn how to check your device's hardware version, click here.
If your router has a storage link and your storage device is connected to it, make sure to remove the storage device before upgrading the router's firmware to prevent data loss.
Make sure that you have created a backup configuration before removing the storage device.  For instructions on how to create a backup, click here. 
Updating the Linksys Wi-Fi Router's firmware
Step 1: 
Launch Linksys Connect on your computer.  To learn how to launch Linksys Connect on different operating systems, click here.

Step 2:
Once the prompt There's an important update for your router appears, select Update now.  Click OK to continue.
 
NOTE:  If you are not getting a prompt to update Linksys Connect, it means that the installed Linksys Connect and your router's firmware are already up-to-date.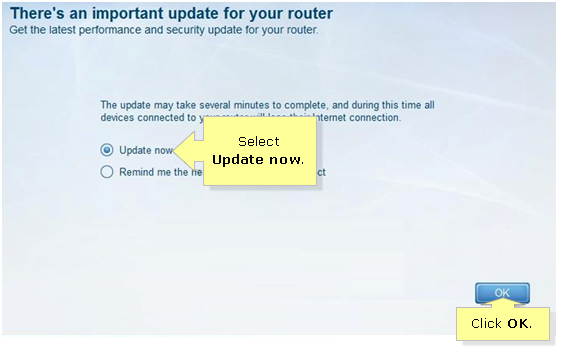 Step 3:
Once the Before we get started window appears, click OK to continue.  This prompt gives you guidelines on what to do while Linksys Connect is updating.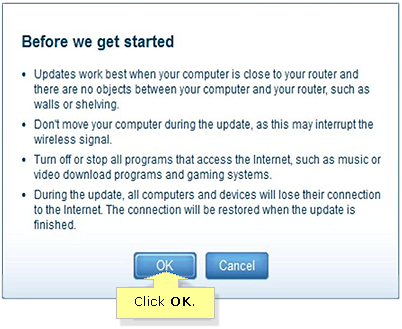 IMPORTANT:  Linksys Connect will prompt you when the update starts.  Do not unplug the power cord of your device or reset it.
 

 
The Linksys Connect software will then show you a confirmation window stating that the update has been successful. 
The Internet connection of your wireless computers should now be restored.
 
NOTE:  If you have upgraded your Linksys Smart Wi-Fi Router, EA2700, EA3500, EA4500, or E4200v2 to have the Linksys Smart Wi-Fi feature and decided to rollback your router to the Classic firmware, click here for instructions.

Expanding your network
 
Your router has the capability to connect multiple devices in the network such as smartphones, game consoles and printers.  If you have a large house with devices that require top wireless speeds and a wide range, you can also extend the range of your wireless network by using other networking devices from Linksys such as the Powerline adapters.  To know more about Powerline adapters, click here.