Setting the Linksys WAP300N N300 Dual-Band Wireless Access Point to Access Point mode allows you to: 
Upgrade your wired network into a wireless network

Upgrade an older wireless network to 802.11n

Upgrade a single band network to dual band 5GHz (NOT simultaneous)

Extend the wireless network (Only if AP is wired back to existing wireless router, older method) 
The Linksys WAP300N is set to Access Point mode by default.  If it has been set to other operation modes, follow the steps below to learn how to set it back to Access Point mode:
Step 1:
Connect the Linksys WAP300N to your computer using an Ethernet cable.
Step 2:
Access the Linksys WAP300N's web-based setup page by opening a web browser and entering its IP Address on the Address bar.
NOTE:  The default IP Address of the Linksys WAP300N is 10.100.1.1.  If the Linksys WAP300N is already configured with your router, check its IP Address through the DHCP Client Table of the router to be able to use it in accessing its web-based setup page.  To learn how to check the IP Address via the DHCP Client Table, click
here
.
Step 3:
On the web-based setup page, go to Setup > Operation Mode.

Step 4:
Select Access Point then click Save Settings.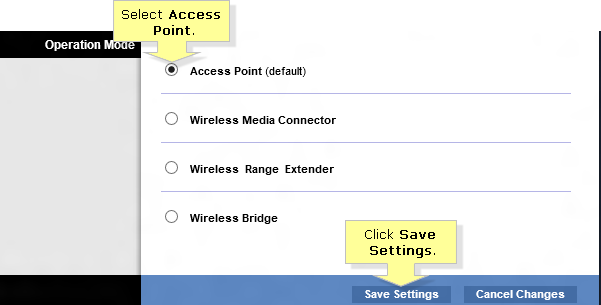 You should now have successfully set your Linksys WAP300N to Access Point mode.
Related Articles: