The Linksys Smart Wi-Fi Routers (EA4500, EA3500, EA2700 and E4200 v2) are equipped with an Auto Firmware Update feature on the web-based setup page which automatically upgrades the latest firmware version of the router through the Internet.  This feature also enables you to restore the router's firmware to its previous version using the Restore Previous Firmware feature.
IMPORTANT:  Once your router performs an Auto Firmware Update, all of the customized settings of the router (network name, wireless security, etc.) will be retained.  Your customized settings will only be erased if you reset your Linksys Smart Wi-Fi Router to factory default settings.
NOTE:  If you have upgraded to Linksys Smart Wi-Fi and decided to rollback your router to its previously loaded firmware with classic UI, click here for instructions.
To enable the Auto Firmware Update feature, follow the steps below:
Step 1:
Access the router's web-based setup page.  For instructions, click here.  If you're using a Mac computer, click here.
Step 2:
Select Administration then click on Firmware Upgrade.

Step 3:
Click Online Upgrade.  The Upgrade Automatically box is checked by default.

QUICK TIP:  Check Upgrade Automatically to automatically check for updates.  The router will check for updates at midnight according to the time zone setting on the Basic Setup page.  If an update is found, it will be immediately installed and then your router will restart.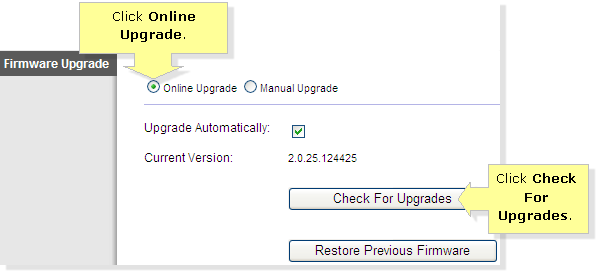 IMPORTANT:  In case this feature has previously been enabled and you want to disable it, select Manual Upgrade to discontinue automatic firmware upgrade.
NOTE:  Your router's current version will be displayed on the same page.  You can verify if there are new versions by clicking Check For Upgrades.
On the Available Upgrade field, a notification of your router's software status will be displayed.
 


NOTE:  You can also use the Restore Previous Firmware feature.  This feature allows your router to restore the previous firmware if in any case the device experiences problems after the firmware update.  To learn how to use this feature, click here.


Related Article:
Updating the router's software and firmware using Linksys Connect