The Service Set Identifier (SSID) is also called the network name of your router's wireless network which you can name or change according to what you prefer.  Make sure that you are familiar with it since this will identify your wireless network from the rest.  Changing the wireless network name or SSID is necessary because:
It is one way of securing your wireless network.

It personalizes your network so you can recognize it from others.

If your router is dual-band (both 5 GHz and 2.4 GHz), using different SSIDs is highly recommended to identify which frequency you are currently connected to.
To change the wireless network name of your Linksys router, follow the steps below:
Step 1:
Access the router's web-based setup page.  Open any web browser (Internet Explorer®, Mozilla Firefox®, or Safari®) and enter "192.168.1.1" in the Address bar then press [Enter].
Step 2:
You will be asked for your login details.  Leave the User name field blank and enter "admin" in the Password field then click OK.
Step 3:
Click Wireless.

Step 4:
Select Manual.

Step 5:
Change the Network Name (SSID) to something unique to easily determine your wireless network.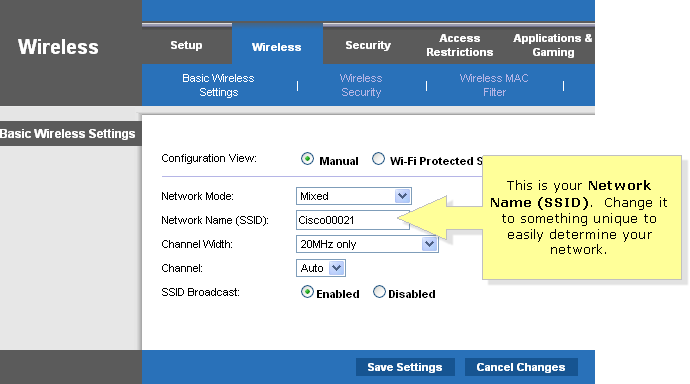 Step 6:
Click Save Settings.
Your wireless network name or SSID is now successfully changed.
NOTE:  All Linksys routers' SSID are broadcasted by default.  However, other people prefer to have their wireless network hidden especially to neighbors who might connect without permission.  If you want to do such, then you have to disable your SSID broadcast.  Click here for detailed instructions.
Expanding your network
You can also extend the range of your network, especially in situations that require you to do so.  This is through the use of other networking devices from Linksys such as Powerline adapters.  More of Powerline networking can be read by clicking on the link below:
Different Linksys Powerline adapters that can be used for setting up a Powerline network