With a Linksys cloud account, you will be able to access and configure your router anytime, anywhere. This article will show you how to set up the Linksys cloud account on a Linksys Smart WiFi router using a Mac® computer.

Before you begin, you need to prepare the following to ensure that the process would not be interrupted:
A Linksys Smart WiFi router (in this article, the Linksys EA4500 is used as an example)

Modem (make sure you have an active internet connection)

Two ethernet cables

A Mac computer (in this example, the computer uses macOS® Monterey)

Once you have all the materials listed, you can proceed with the setup by following the instructions below:
 
1. Connect one end of the first ethernet cable (in blue) to any of the ethernet ports of the router and the other end to the ethernet port of your Mac computer. Make sure that modem is connected to the internet port of the router using the second ethernet cable (in yellow). This is how your setup should look now:
 
You should also connect the power adapter of the router to the power port then plug the other end into an available wall socket.
 

2. Access the router's web-based setup page by opening any web browser. Enter the default IP address "192.168.1.1" in the Address field then press the [Enter] key.
 

A pop-up window will appear, asking for your router's username and password. Enter "admin" in both fields then click OK. You will be redirected to the web-based setup page.

3. On the web-based setup page, click the Wireless tab then click the Manual radio button.
 

4. Enter your desired network names in the fields found under the 2.4 and 5 GHz Wireless Settings section.

5. On your web browser, open a new tab then go to the Linksys Support Site to visit the product page of the router that you are using. In this example, we will be opening the Linksys EA4500 product page.

6. On the Linksys EA4500 product page, click on DOWNLOADS / FIRMWARE.
7. Click on the hardware version then click the link to download the utility. It is recommended to save your downloaded file on the Desktop for easier access.

If the download article will ask you to select a specific region, choose your current location.

8. Open the upgrade utility file then follow the on-screen instructions, as seen in the images below.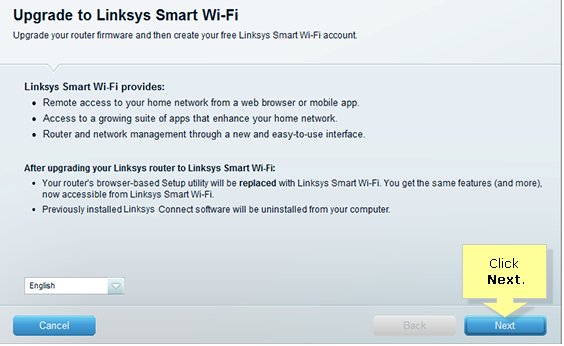 9. The last window for the setup will inform you that the process has been completed. Click the Launch Linksys Smart Wi-Fi button to proceed.
 

TIP: Take note of your router and wireless settings.

10. You will be redirected to the Create a Linksys Smart Wi-Fi Account page. Fill out the required fields and click Create My Account.
 

11. Enter your router's admin password. The default password is "admin". After logging in using your Linksys cloud account, you will get the Associate Router prompt.

Congratulations! You have now successfully set up a Linksys cloud account on your Mac computer.


Find out more:

Changing the Wi-Fi settings using the Linksys cloud account
Different ways in setting up your Linksys wireless router
Checking the Mac computer's connection to the router