The Guest Access feature gives you an alternative In

ternet connectivity for your guests without compromising the confidentiality of your main wireless network.




 


The Guest network SSID is the same as the main Wireless Network Name (SSID) however, followed by a -guest suffix. 

It is a separate network which prevents the Guest users from accessing any devices/clients on the main network.  Click
here
to know more about this feature.
Follow the instructions below to learn how to manage your router's Guest Access feature using your Linksys cloud account.
Step 1:
Access your
Linksys cloud account
.  For detailed instructions on how to do this, click
here
.
Step 2:
On the left navigation panel, click
Guest Access
under
Smart Wi-Fi Tools
.
Step 3:
Toggle the
ON/OFF
switch when choosing to either disable or enable the Guest Access feature if it's not yet set up.
QUICK TIP:

  This feature is disabled by default.  This will be enabled once you run the Smart Setup software.





NOTE:

  Some Linksys routers only support a Guest network on the 2.4 GHz band.  Also, for Tri-Band routers such as the EA9200, EA9400, and EA9500, 5 GHz Guest clients connect only to the 5 GHz

1

network. 




 




Step 4:




Click

Edit

.  Enter your desired Guest network name and password in the appropriate fields.  It is recommended to keep the s

uffix –guest

at the end of the name.
Step 5:




From the

Total guests allowed

drop-down menu, specify the total number of guests who can access your Guest network.  A minimum

of five 

guests and up to a maximum o

f 50 g

uests can connect to the network simultaneously.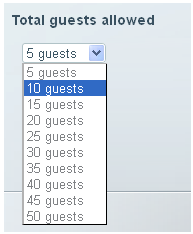 Step 6:
Click 

to save your settings.
Have your guests connect to the Guest network using whatever methods they typically use to connect to a wireless network.  Once connected, have them open an Internet browser and enter the Guest network password when the prompt appears. 
For step-by-step instructions on how to connect to the Guest network, click
here
.
Related Articles:
Setting up the Guest Network through the Linksys Smart Wi-Fi (VIDEO)
Connecting a wireless computer to the Guest network