The following steps will guide you in setting up your parent node using a Point-to-Point Protocol over Ethernet (PPPoE) connection.



Requirements for setup
Account credentials for your PPPoE connection from your internet service provider (ISP) 

The latest version of the Linksys app must be installed to your mobile device
---
Directions

NOTE:  Steps and images may differ depending on the device used for setup.  In most of the examples below, an Android™ device is used.

Step 1:  
Connect to your Velop's Wi-Fi then open the Linksys app.

Step 2:
Tap on Launch setup.

NOTE:  For iOS, tap Set up a New Wi-Fi Network.




Step 3: 
You will be prompted to turn ON the Bluetooth®.  This step is recommended.

NOTE:  You may also be prompted to turn ON location access to continue the setup.  


Step 4: 
Setup will look for your node.




Step 5:
When prompted to choose what type of network you're setting up, tap on VELOP.




Step 6: 
Read the instructions on How to place your node then tap Next.




Step 7: 
Plug in your node then tap Next.




Step 8: 
Wait for the app to start up the new node.  This could take a few minutes.




Step 9: 
Check the light on your node.  If it's blinking purple, tap Yes, it's Blinking Purple.




NOTE:  If you see otherwise, tap No, It's Not Blinking Purple and follow the on-screen instructions.

Step 10: 
Setup will check for internet access.




Step 11:
Check the boxes once the recommended on-screen setup has been established.  Tap Next once done.




Step 12:
Tap on Do you have ISP settings to enter? at the bottom.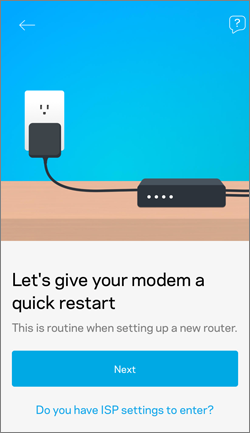 Step 13:
Tap on PPPoE.




Step 14:
Enter the credentials provided by your internet service provider (ISP).




Step 15:
Setup will check for internet access.  




Step 16: 
Create a Linksys server account by entering an email address and password in the fields provided.  Tap Create Account to proceed.  If you already have an account, tap Log in here and enter your credentials.




Step 17:
Setup will link your account.  This can take up to a minute.




Step 18:
The Linksys app will now configure your Velop network.




Step 19:
Personalize your home Wi-Fi by creating a Wi-Fi name and Wi-Fi password.  Once done, tap Next.




Step 20:
Give your node a name then tap on Next.




Step 21:
On the Success! screen, tap Next.




Step 22:
If you want to add a child node, tap Add Another Node.  Otherwise, tap That's it for Now.  You can also add a node later by logging in to the Velop dashboard. 
Step 23:
Once the Always fresh screen appears, tap Next.




The node will perform a firmware check to verify if your node is up-to-date.  If a new firmware is available, the Linksys app will update automatically.  Otherwise, you will land on the Your Wi-Fi is ready screen and you can tap on Go to Dashboard.
Related Article:
How to turn OFF my router's or gateway's Wi-Fi