Setting up your Velop is easy through the Linksys app.  The app provides an animated guide and automatically identifies the nodes to be set up

making the process secure, seamless, and simple.  Follow the steps below to set up the parent Velop node using an iOS device.
Requirements
1.  Latest Linksys app version
2.  Latest iOS mobile device 
3.  A working internet connection via a modem or modem router (gateway)
---
Directions
 
Step 1:
Disconnect the modem from the power outlet and remove your existing router. 

Step 2:
Connect the modem to the internet port on the node.

Step 3:
Connect the modem and the node to the power outlet.  Wait for the light on the node to turn solid purple.

Step 4:
Once the light on the node is solid purple, open the Linksys app and tap on Set up a New Wi-Fi Network. 




Step 5:
Turn on Bluetooth® if prompted.  Otherwise, tap I would rather set up without Bluetooth.




Step 6:
Read the Terms and Conditions then tap Agree.
 



Step 7:
You will be prompted to select what type of device you are setting up.  Tap on the option for VELOP.




Step 8:
Plug in your node then tap It's Plugged In.




Step 9:
Position your node accordingly then tap Next.




Step 10:
On the next screen, tap It's In the Open.




Step 11:
Follow the on-screen instructions then tap It's Connected.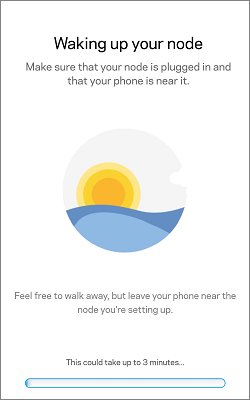 Step 12: 
If the light has started to flash purple click Yes, it's Blinking Purple.  Otherwise click No, It's Not Blinking Purple for further instructions.


NOTE:  If you have other nodes turned on with purple lights, turn them OFF for now until your parent node is set up.

Step 13: 
Setup will check for internet connection.




NOTE:  If internet connection is not detected especially for PPPoE connections or if you have a Static WAN IP address, you will be prompted to check your wiring.  If a connection is still not found, the screen below will display:




Tap on Do you have ISP settings to enter? and select your internet connection.




Step 14:
Create a Linksys server account or click Log in to enter your existing account credentials.




Step 15:
Wait for the node to be linked to your account.




Step 16:
Personalize your WiFi by entering your preferred settings and tap Next.




Step 17:
Wait as setup configures your network.




Step 18:
Select a location for the node then tap Next.




NOTE:  If you want to customize your node's name, tap Name it something else and enter your preferred name.




Step 19:
Success!  You have set up the node.  Tap Next.




Step 20:
If you need to add another node, tap on Add a Node.  Otherwise, tap That's It for Now.  You can always add more nodes later.




Step 21:
Updates for the node will automatically happen overnight.  The node can also report crashes to Linksys to make your WiFi better.  Tap on Next to continue.




Step 22:
Your WiFi should now be ready!  Tap Go to Dashboard to see the status of your connection and devices.





Related Article:

Adding a child node to your Velop system using an iOS mobile device