Connecting your Android™ device to your Wi-Fi is quick and simple.  Before connecting, you need to make sure you have your router's Wi-Fi name (SSID) and network key or

password.  You can get these by accessing the router's web-based setup page and checking the Wireless tab > Basic Wireless Settings sub-tab.  If you have a Linksys Smart Wi-Fi Account, just click Wireless under the Router Settings on the left navigation panel to get your wireless settings.
 
Once you have all the necessary information, follow the steps below to successfully connect your Android device to the network:
 
NOTE:  The Nexus™ 7 2nd Gen Android tablet is used in this example.
 
Step 1:
On your Home screen, tap the Menu
 icon.
Step 2:
Tap the Settings
.  
Step 3:
Tap Wi-Fi and make sure that it is set to ON.
Step 4:
Tap your Wi-Fi name from the list to connect.
 
NOTE:  The linksyssmartwifirouter network is used here for illustration purposes.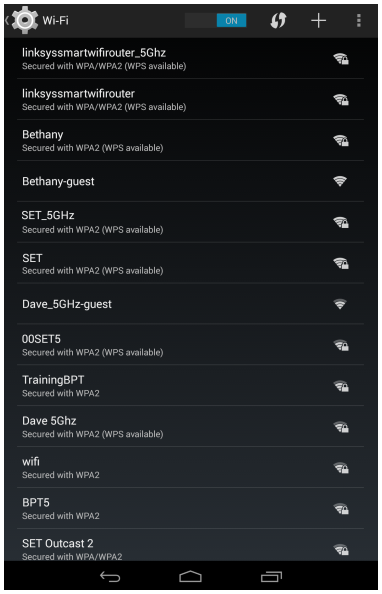 QUICK TIP:  If your network is secured, enter the wireless security password first and tap Connect.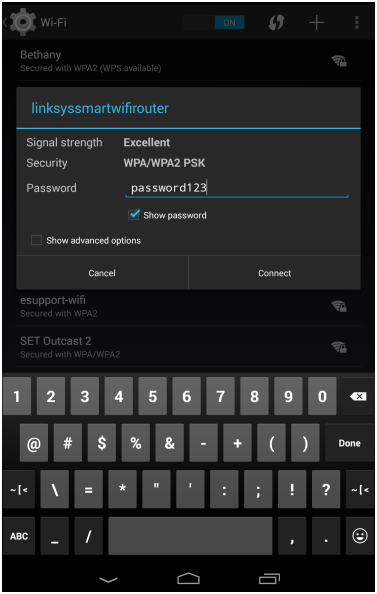 To view your password, tap the Show password checkbox.  WPA keys are case-sensitive (abc is different from ABC).  WEP keys are hexadecimal (0-9 and a-f) characters and are not case-sensitive.
 
You should now have connected successfully to the Wi-Fi.  To check the IP address of your Android device, tap your router's SSID.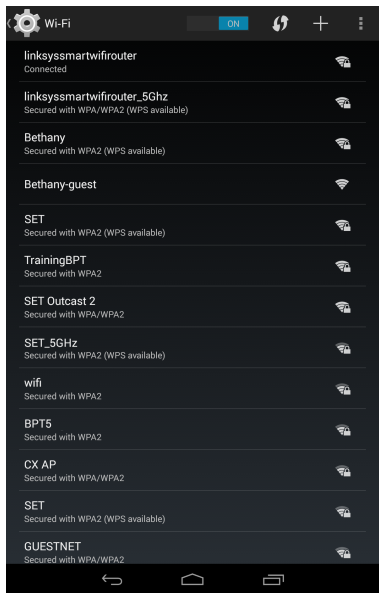 QUICK TIP:  If you encounter authentication errors while connecting your Android device to the network, ensure the following:
SSID broadcast must be enabled

Wireless MAC Filter feature must include (allow/permit) or exclude (deny/prevent) the MAC address of the tablet.

Correct Wi-Fi name and password must be used 
Connecting other devices
 
After successfully connecting your Android device to the Wi-Fi, you can now do the same to the other devices at home to fully utilize your router.  You can connect as much as 32 wireless devices to the Wi-Fi.