I router Linksys con tecnologia Tri-Banda fornisce uno (1) 2,4 GHz e due (2) banda di rete Wi-Fi a 5 GHz.  Viene inoltre fornito con la funzione Smart Connect che consente al router di avere la capacità, la flessibilità e l'intelligenza di assegnare un cliente wireless a 5 GHz per connettersi in una delle due (2) bande a 5 GHz del router.


 


Il router eseguirà lo sterzo di banda, che "dirigerà" i clienti alla rete meno congestionata della banda da 5 GHz.  Ciò consente ai dispositivi più veloci di  AC-capable (AC-capace) di operare con prestazioni più elevate su una (1) della banda di 5 GHz a parte gli altri dispositivi a banda doppia più lenti che si collegano alle altre 5 GHz radio.

Tecnologia a Doppia-Banda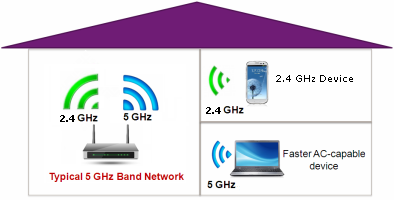 Tecnologia Tri-Banda
Il tradizionale Wi-Fi a 5 GHz utilizza 24 non-overlapping frequencies (24 frequenze non sovrapposte) nella lunghezza di canale di 20 MHz.  A causa delle restrizioni, la maggior parte dei router ei punti di accesso a 5 GHz utilizzano solo otto a nove (8-9) frequenze.
Otto a nove (8-9) frequenze - sono canali etichettati 36, 40, 44, 48, 149, 153, 157, 161 e 165.
Tri-Band technology has a 5 GHz WLAN composed of two (2) radios, where clients will be steered to an upper or lower portion of the band based on distance and/or protocol.
5 GHz1 - Uses channels Auto and 36-48 (lower channels)
5 GHz2 - Uses channels Auto and 149-161 or 165 (higher channels)
La tecnologia Tri-Banda ha una WLAN a 5 GHz composta da due (2) radio, dove i clienti verranno indirizzati verso una parte superiore o inferiore della banda sulla base della distanza a / o del protocollo.
Presentazione del router Linksys Smart Wi-Fi, EA9200
Presentazione del router AC5400 Max-Stream™ MU-MIMO Gigabit Linksys EA9500
Presentazione del router Wi-Fi AC5000 MU-MIMO Tri-Banda Linksys EA9400
Presentazione del router Wi-Fi AC2200 Max-Stream Tri-Banda Linksys EA8300