Het instellen van uw Linksys EA6500​ is heel eenvoudig via de Linksys Smart WiFi router installatiewizard. Er wordt een installatie-cd meegeleverd bij elke aankoop van de router. Dit artikel beschrijft de stapsgewijze instructies over hoe u de router correct instelt, en informatie over de eisen die bij dit proces horen.

U kunt de Linksys EA6500 installatiesoftware downloaden als u de installatie-cd niet heeft.

Vereisten voordat u het installatieproces start
Uw router installeren
Probleemoplossing
---
Vereisten voordat u het installatieproces start
Aan de volgende eisen moet worden voldaan om problemen tijdens het gehele installtieproces te vermijden:
Voor uw computer – Controleer de webbrowser en het besturingssysteem dat op uw computer is geïnstalleerd en controleer of deze voorkomen in onderstaande lijst.
 
| | | |
| --- | --- | --- |
| Webbrowser | Windows® (voor printerhulpprogramma) | macOS® (voor printerhulpprogramma) |
| Internet Explorer® 6 of later | Windows 10 | Yosemite 10.10 |
| Safari® 3 of later | Windows 8.1 | Mavericks 10.9 |
| Firefox® 2 of later | Windows 8 | Mountain Lion 10.8 |
| Google Chrome™ | Windows 7 | Lion 10.7 |
|   | Windows Vista® met Service Pack 1 of hoger | Snow Leopard 10.6.x |
|   | Windows XP met Service Pack 3 | Leopard 10.5.8 |
|   |   | Tiger 10.4.11 |
U dient te beschikken over de volgende producten:
Een Linksys EA6500 router
Twee Internet / Ethernet (RJ-45) kabels
Eén installatie-cd of de gedownloade installatiesoftware
Een computer met een Ethernetpoort
Als uw computer geen WiFi-mogelijkheid heeft, kunt u de router rechtstreeks op uw computer aansluiten met een ethernetkabel.

TIP: Als u WiFi-functionaliteit wilt toevoegen aan uw computer zonder WiFi, kunt u een WiFi-adapter aansluiten en installeren.
Uw internetverbinding controleren
– Om te controleren of u toegang heeft tot internet, sluit u de modem aan op de computer met behulp van een Ethernet-kabel. Raadpleeg de afbeelding hieronder voor een voorbeeld.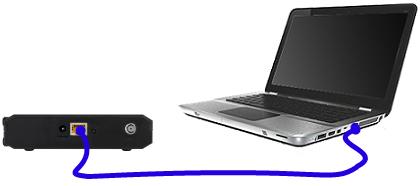 Ik heb geen modem. Bestaan er nog alternatieven? 

Ja. Wat u kunt doen, is de kabel (ook wel een patch of een glasvezelkabel genoemd) die door uw internetprovider (ISP) is geleverd rechtstreeks op de Ethernet-poort van de computer aansluiten.
---
Uw router installeren

1. Plaats de installatie cd in het cd-station van uw computer. Nadat er een pop-upvenster is verschenen, klikt u op Set up your Linksys Router (Uw Linksys router instellen).
 
Als u geen pop-upvenster ziet, dubbelklik dan op het pictogram 
op uw bureaublad. Zoek dit pictogram 

op en dubbelklik hierop. Hiermee moet het installatieproces direct worden gestart.
2. 
Schakel het selectievakje naast I have read and accepted the License Terms (Ik heb de licentieovereenkomst gelezen en ga ermee akkoord) in en selecteer een Language (Taal). Klik op Next (Volgende) om door te gaan.
3. 
Sluit uw

Linksys EA6500

aan. Volg de instructies 1 en 2 in het installatiescherm. Klik op Next (Volgende).
TIP: Als u hulp nodig heeft, klikt u op de knop Show me how (Laat me zien hoe dat moet). Daarmee ontvangt u stapsgewijze instructies over het verbinden van uw router met uw computer.
In het volgende venster ontvangt u de melding dat het installatieproces wordt uitgevoerd. Dit venster niet sluiten.
4. 
Er verschijnt een ander venster met daarin de

Wireless network name (SSID), Wireless password and Router password (Naam van het draadloos netwerk (SSID), het wachtwoord van het draadloos netwerk en het wachtwoord van de router). De installatiewizard genereert automatisch deze waarden. Wij raden echter nadrukkelijk aan dat u deze direct aanpast afhankelijk van uw voorkeur. Dit om te voorkomen dat de veiligheid van uw netwerk gevaar loopt. Nadat u de instellingen heeft gewijzigd, klikt u op Next (Volgende).
5. De installatiewizard gaat verder met de installatie door het type internetverbinding te identificeren dat wordt gebruikt.
Als u een DSL-abonnement heeft, kan een nieuw venster verschijnen waarin de gegevens van uw gebruikersaccount wordt gevraagd. Voer uw accountgegevens in en klik op Next (Volgende) wanneer u klaar bent. Mogelijk moet u uw internetprovider om deze gegevens vragen.
6. De installatie van uw router wordt nu afgerond. Wacht totdat het venster is verschenen dat u informeert dat u bent aangesloten op Internet en klik daarna op Next (Volgende).
7. Er verschijnt nu een bericht dat uw router met succes is geïnstalleerd. Klik op Close (Sluiten).
8. Klik op Continue (Doorgaan) om een
uw Linksys cloud account te creëren
. 
U kunt het instellen van een account overslaan door het selectievakje in te schakelen naast de tekst No thanks (Nee, bedankt). Klik op Continue (Doorgaan) en daarna op Close (Sluiten) in het volgende venster om de installatie af te ronden.
---
Als de installatie mislukt, hier zijn enkele van de mogelijke stappen die u kunt nemen om het probleem op te lossen.
De router opnieuw instellen - Druk op Reset knop en houd deze gedurende 10 seconden ingedrukt om het apparaat opnieuw in te stellen. Voer vervolgens een power cycle uit door de stekker van de router gedurende 10 seconden eruit te halen en steek hem opnieuw in.
 
De Windows Firewall uitschakelen - Een andere optie is om ervoor te zorgen dat de firewall van uw computer is uitgeschakeld voordat u deze instelt. U kunt de firewall daarna opnieuw activeren.
Meer informatie:
Wireless-AC en de Linksys EA6500 Router (VIDEO)