De Dynamic Host Configuration Protocol (DHCP)-functie stelt de router in staat de lease van een IP-adres te reserveren voor gebruik van een specifiek apparaat op uw netwerk, zodat de router het IP-adres niet toewijst aan andere apparaten in het netwerk. Dit is handig bij het beheren van meerdere apparaten, zoals afdrukservers, webcamera's, netwerkprinters of game consoles.

BELANGRIJK: Het IP-adres moet binnen het DHCP Reservation (DHCP Reservatie)-bereik zijn. Dit komt omdat u geen IP-reservering buiten het DHCP-bereik kunt krijgen.

SNELLE TIP: DHCP Server moet worden ingeschakeld omdat, wanneer deze is uitgeschakeld, uw router zal werken als een schakelaar, waardoor er slechts één (1) computer toegang kunt hebben tot Internet. In gevallen waarin de DHCP Server is uitgeschakeld maar IP-adressen nog steeds worden toegewezen, is het de router Network Address Translation (NAT) dat deze adressen uit uw modem vertaalt.

Volg onderstaande stappen om een DHCP-reservering te configureren: 
Ga naar uw Linksys cloud account. Klik hier voor instructies. 
Klik op Connectivity (Connectiviteit).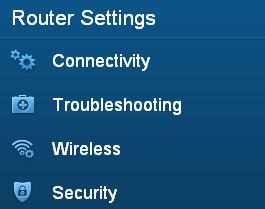 Stap 3:
Klik op Local Network (Lokaal netwerk). 

Local Network (Lokaal netwerk) bevat twee (2) gedeelten:
1. Router Details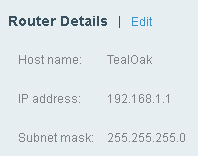 Host name – Dit is de naam van de router.
IP address – Dit is het IP-adres van de router.
SNELLE TIP: Dit adres kunt u mogelijk wijzigen, hoewel u de apparaten die op dat moment met uw router zijn verbonden, opnieuw moet verbinden omdat de router een ander IP-adres heeft gekregen.
Subnet mask – Dit is het subnetmasker van de router. Dit wordt gebruikt om een netwerk op te splitsen in subnetwerken, zodat informatie correct naar uw computers en apparaten kan worden geleid. Uw Internet Service Provider (ISP) zal u de juiste instelling voor het subnetmasker verstrekken die u hier moet opgeven. 
2. DHCP Server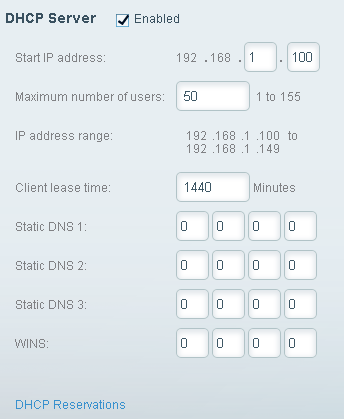 Start IP address(Eerste IP-adres) – Dit is het eerste IP-adres dat wordt toegewezen aan het eerste apparaat dat verbinding maakt met het netwerk.
Maximum number of users (Maximale aantal gebruikers) – Dit is het totaal aantal apparaten dat verbinding met uw router kan maken. Dit aantal mag niet groter zijn dan 253. De standaardinstelling is 50.
IP address range (IP-adresbereik) – De beschikbare IP-adressen die kunnen worden gebruikt op het netwerk.
Client lease time (Leasetijd van client) – Geeft aan hoe lang (in minuten) een netwerkgebruiker met de router verbonden kan zijn met het huidige IP-adres. Wanneer deze periode is verlopen, krijgt de gebruiker automatisch een nieuw IP-adres toegewezen of wordt de lease vernieuwd.
Static DNS 1 - 3 – DNS (Domain Name System) is de manier waarop namen van domeinen of websites op internet worden omgezet in internetadressen of URL's die u kunt openen. Van uw internetprovider ontvangt u het IP-adres van ten minste één DNS-server. U kunt er maximaal drie (3) invoeren.
WINS – Met WINS (Windows Internet Naming Services) wordt de interactie van elke computer met internet beheerd. Als u een WINS-server gebruikt, voert u hier het IP-adres van die server in. In alle andere gevallen laat u dit veld leeg.
DHCP Reservations (DHCP-reserveringen) – Hier kunt u een uniek, vast IP-adres toewijzen aan een specifiek apparaat in uw netwerk. Dit is nuttig als u wilt dat uw apparaat altijd hetzelfde IP-adres krijgt wanneer het verbinding maakt met het netwerk.
Stap 4:


Klik onder DHCP Server (DHCP-server) op DHCP Reservations (DHCP-reserveringen).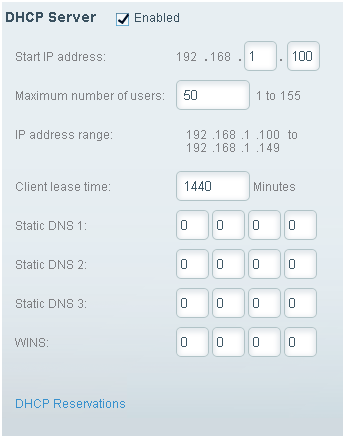 Hiermee geeft u de lijst met apparaten weer die zijn verbonden met uw netwerk. Selecteer het apparaat dat u wilt toevoegen en klik op Add DHCP Reservation (DHCP-reservering toevoegen).
BELANGRIJK: Als het apparaat dat u wilt toevoegen niet wordt vermeld, kunt u handmatig een apparaat toevoegen aan de DHCP-reservatielijst. Hiervoor moet u het MAC-adres van uw apparaat achterhalen en vervolgens op Manually add device reservation (Apparaatreservering handmatig toevoegen) klikken om de volgende details in te voeren:
 
Device Name (Naam van het apparaat) – Dit is de naam van het apparaat dat u wilt toevoegen.
Assign IP Address (IP-adres toewijzen) – Dit is het vaste IP-adres dat het apparaat ontvangt wanneer het verbinding maakt met het netwerk.
To: MAC Address (MAC-adres) – Dit is een unieke ID van een apparaat. Als u wilt weten hoe u het MAC-adres van uw computer achterhaalt, klikt u hier. 

Stap 6:
Klik op Save (Opslaan).
 

SNELLE TIP: U kunt op Edit (Bewerken) of Delete (Verwijderen) klikken om uw lijst met DHCP-reserveringen aan te passen. Edit (Bewerken) biedt toegang tot de instellingen Device Name (Apparaatnaam) en Assign IP Address (IP-adres toewijzen). Met Delete (Verwijderen) kunt u het apparaat uit de lijst verwijderen.

Stap 7:
Als u de aangebrachte wijzigingen wilt opslaan, klik op 

.
Uw apparaat ontvangt automatisch het juiste IP-adres wanneer het verbinding maakt met het netwerk. Bovendien treden er geen IP-adresconflicten met andere apparaten in het netwerk op.
Uw netwerk uitbreiden
Behalve het configureren van de geavanceerde functies van uw Linksys Smart Wi-Fi Router, kunt u nog andere acties uitvoeren. Door extra apparaten te verbinden, kunt u draadloos het signaal in uw huis uitbreiden naar moeilijk te bereiken gebieden en kunt u zelfs aanvullende apparaten (kabel en draadloos) verbinden voor games of entertainment. Klik op de links voor meer informatie over deze nieuwe producten.
Gerelateerd artikel: