Met Traceroute (Route traceren) wordt de route via internet van uw thuisrouter naar een externe locatie die is opgegeven in het veld IP or URL address (IP- of URL-adres) "getraceerd". 
Waarom is een traceroute belangrijk?

Een traceroute is belangrijk omdat u hiermee achterhaalt welke routers en netwerken worden gepasseerd door de gegevens voordat deze aankomen op het uiteindelijke IP- of URL-adres.  Hiermee kunt u vaststellen hoever de gegevens komen voordat deze al of niet de bestemming bereiken.
In dit artikel worden de stappen beschreven om een Traceroute uit te voeren via Linksys Smart Wi-Fi:
Stap 1:
Open een webbrowser en ga naar uw Linksys Smart Wi-Fi-account.  Voor meer informatie klikt u
hier
.
Stap 2:
Klik in het navigatievenster onder Router Settings (Routerinstellingen) op Troubleshooting (Problemen oplossen).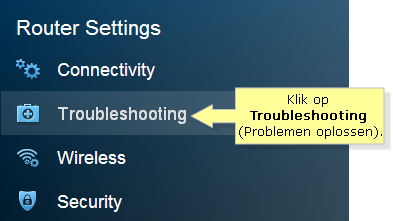 Stap 3:
Klik op het tabblad Diagnostics (Diagnose).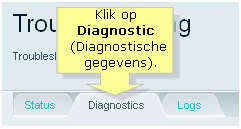 Stap 4:
Voer hier het
IP-adres of de hostnaam
in die u wilt testen.  Klik op de knop 

om de test uit te voeren.

OPMERKING:  In het scherm Traceroute (Route traceren) wordt weergegeven of de test is geslaagd.  Hiermee kunt u tevens controleren welk traject de pakketten afleggen via internet.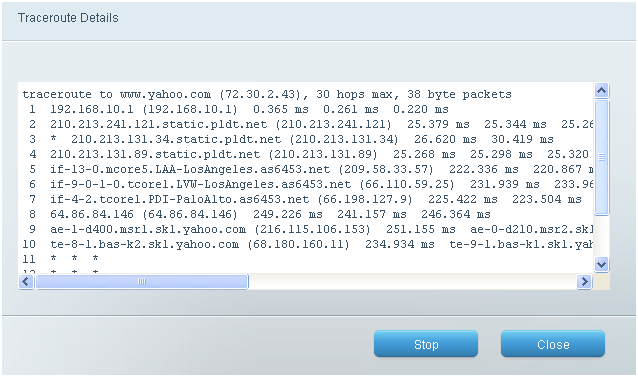 Uw netwerk uitbreiden
U kunt het bereik van uw draadloze netwerk ook vergroten.  U doet dit met behulp van andere apparaten van Linksys zoals switches, Powerline-adapters, draadloze bridges en range extenders.  Als u op de volgende koppeling klikt, ontvangt u meer informatie over de verschillende apparaten waarmee u uw netwerk kunt uitbreiden.