Eén van de nieuwste functies van Linksys cloud account die gekoppeld is met de Linksys Smart Wi-Fi Routers (EA6300, EA6400, EA6500 of EA6700) is SimpleTap™. Deze verbindingsfunctie zorgt voor een eenvoudige manier om uw Near Field Communication (NFC) compatibele smartphone te verbinden. Gebruik de SimpleTap™-kaart om uw smartphone draadloos te verbinden met het netwerk zonder te onthouden van wachtwoorden en beveiligingssleutels.

Om te controleren of uw Android™-smartphones NFC-compatibel zijn, bezoekt u deze link:
http://www.nfcworld.com/nfc-phones-list
Hier volgen instructies voor het verbinden van uw smartphone met gebruik van SimpleTap™: 
1. Schakel de Wi-Fi functie op uw smartphone in.
2. Download en installeer de Linksys app op uw NFC-compatibele Android™ smartphone. Er zijn twee (2) manieren om dit te doen:
Klik op de links voor instructies over het downloaden van

Google Play™

, of uit de

App Store®

voor Apple®-apparaten
3. Schakel de functie SimpleTap™ connection (SimpleTap™-verbinding) in uw Linksys cloud account in. Voor instructies, klik
hier
.

4. Tik de SimpleTap™-kaart naar uw telefoon.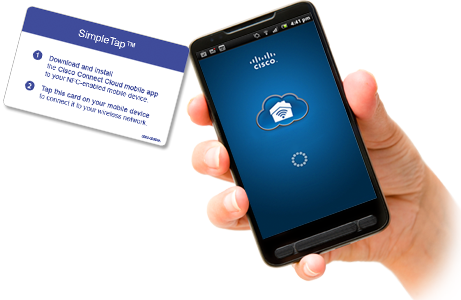 De Linksys app zal dan automatisch openen en er zal een bericht verschijnen dat het mobiele apparaat draadloos is verbonden met het 2.4 GHz netwerk van de router.
Meer informatie:
Hoe uw draadloze apparaten aansluiten op uw netwerk met behulp van de Linksys cloud account