Een Firmware is een programma of een reeks gecodeerde instructies op een apparaat.  Door de firmware van uw router te actualiseren, blijven de functies actueel en worden veel prestatieproblemen verholpen.
Dit artikel helpt u bij het controleren van de firmware versie van een Linksys Smart Wi-Fi Router met gebruik van een Linksys cloud account.  Als u gebruik maakt van een Linksys Wi-Fi Router klik
hier
voor instructies.
Stap 1:
Open uw Linksys cloud account.  Klik

hier

voor instructies,

Stap 2:
Klik op Connectivity (Connectiviteit).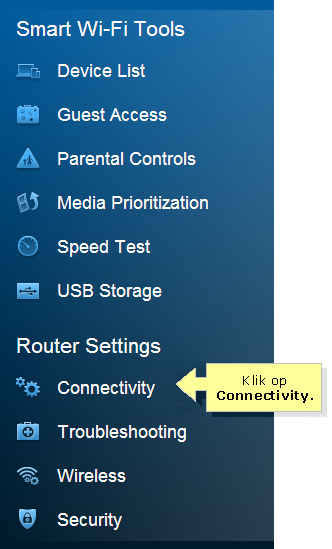 Stap 3:
In de Basic (Basis) tab ga naar de sectie Firmware update.  Voor meer informatie over het actualiseren van de firmware van uw Linksys router klik

hier

.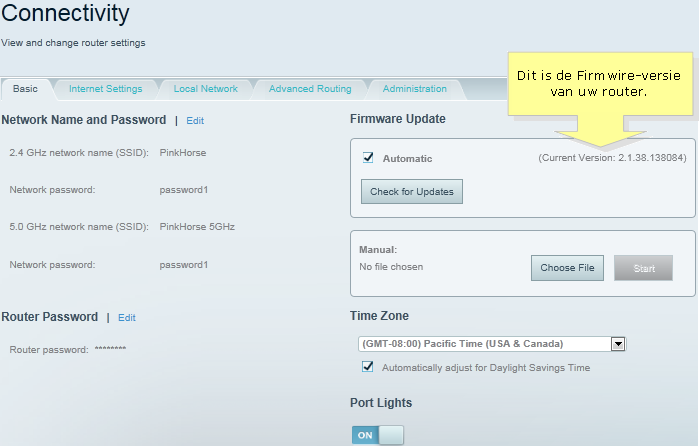 Uw netwerk uitbreiden
Door extra apparaten aan te sluiten, kunt u uw Wi-Fi uitbreiden om de moeilijk bereikbare gebieden in uw huis te bereiken en meer apparaten aansluiten voor gaming of entertainment.  Klik op de onderstaande links voor meer informatie over deze producten.