Linksys is zich bewust van de malware genaamd The Moon dat bepaalde oudere Linksys Wi-Fi Routers en Wireless-N accesspoints en routers heeft beïnvloed.  We zullen werken aan een firmware fix voor de betrokken producten die is gepland om te worden geplaatst op onze website in de komende weken.

Wat is The Moon malware?

The Moon malware omzeilt verificatie op de router door in te loggen zonder echt de beheerdersinformatie te weten.  Eenmaal besmet, de router begint het netwerk over te belasten met poorten 80 en 8080 uitgaand verkeer, wat leidt tot zware data-activiteit.  Dit kan zich manifesteren als zijnde ongewoon traag Internet-verbinding op alle apparaten.

Wat moet ik doen om te voorkomen dat deze malware mijn router infecteert?

Er zijn verschillende stappen om te voorkomen dat The Moon malware uw netwerk infecteert.  Volg onderstaande stappen om te weten hoe:
Stap 1:
Open uw webgebaseerde opstartpagina van uw router.  Om te weten, klikt u

hier

.  Als uw een Mac® computer, klikt u

hier

. 

Stap 2:
Controleer of uw Linksys Router de meest recente firmware versie heeft.  De huidige firmware versie kan worden gevonden in de rechterbovenhoek van de webgebaseerde opstartpagina.  Als uw router niet de meest recente firmware versie heeft, actualiseer deze met behulp de Linksys ondersteuningspagina.  Om te weten, klikt u

hier

.

OPMERKING:  Klik

hier

om de firmwareversie van een Linksys Smart Wi-Fi Router met Linksys-cloudaccount te controleren.  Als u een Linksys Wi-Fi-router gebruikt, klikt u

hier

voor instructies.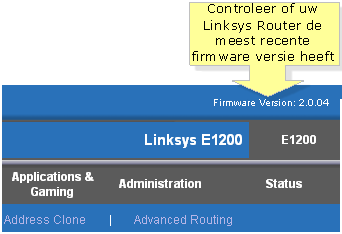 Stap 3:
Zodra u heeft gecontroleerd dat de router de nieuwste firmware heeft, klik op Administration (Beheer).

 
OPMERKING:  Als u de firmware van de router heeft opgewaardeerd, open nogmaals de webgebaseerde opstartpagina en klik op Administration (Beheer). 

Stap 4:
Zorg ervoor dat de optie Remote Management (Extern Beheer) onder het gedeelte Remote Management Access (Externe beheerstoegang) is ingesteld op Disabled (Uitgeschakeld).

 
Stap 5:
Klik op Security (Beveiling).

 
Stap 6:
Zorg ervoor dat de Filter Anonymous Internet Requests (Anonieme Internet Aanvragen) optie onder Internet Filter (Internet Filter) is aangevinkt.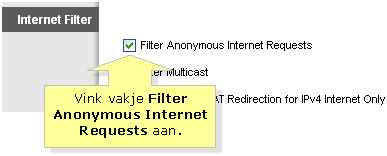 Stap 7:
Klik op Save Settings (Instellingen opslaan).

Stap 8:
Powercycle de router door de stekker uit het stopcontact te halen en stop de stekker er opnieuw in.  Dit moet de malware van de cache wissen en verwijderen als uw router is geïnfecteerd.