Wat gebeurt er als ik de router reset?

Zodra u de router heeft gereset, worden de instellingen teruggezet naar de fabrieksinstellingen.  Alle aangepaste instellingen van de router (wifi naam (SSID), draadloze beveiliging, enz.) worden gewist.

BELANGRIJK:   Als u de oorspronkelijke instellingen van de router wilt herstellen zonder het apparaat opnieuw te configureren, dient u een back-upbestand op te slaan.  

Er zijn twee methodes voor het resetten van de router.  Selecteer één van de onderstaande opties om te weten hoe:



Handmatige Reset




Software Reset



Handmatige reset
Stap 1:
Lokaliseer de
Reset
knop en gebruik een pen of een paper clip, houdt de
Reset
knop voor 
10 seconden 
ingedrukt.
OPMERKING:  Bij bepaalde router modellen, zoals de Linksys Wireless-B en G Routers, moet u de 
Reset
-knop 
30 seconden 
ingedrukt houden.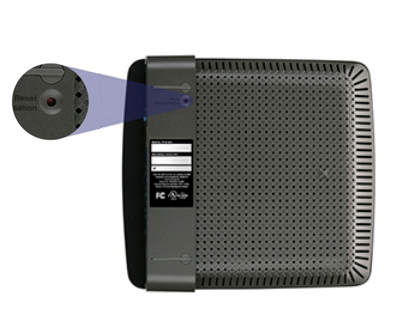 SNELLE TIP:  Let op het aan/uit-lampje van de router terwijl u op de knop drukt.  Het moet knipperen of flitsen om aan te geven dat de router correct wordt gereset.

Stap 2:
Trek de stekker van de router uit het stopcontact en wacht 30 seconden.  Steek de stekker weer in het stopcontact en wacht totdat het aan/uit-lampje blijft branden.

BELANGRIJK:  Voor de nieuw uitgebrachte Linksys Wi-Fi Routers is het niet langer nodig om het apparaat uit het stopcontact te halen.
 
Software Reset
OPMERKING:  Afbeeldingen en stappen kunnen variëren afhankelijk van het modelnummer van uw router.
S
tap 1:
Gebruik een computer die is aangesloten op uw router, open een browser en voer "192.168.1.1" in de adresbalk en ruk op [ENTER].  Als het IP-adres van uw router is gewijzigd, gebruik dan dat in plaats daarvan.
Stap 2:
Zodra het gevraagd wordt, vul in de beheerders inloggegevens van de router om in te loggen.  Het standaard wachtwoord is admin.  Als u het beheerderswachtwoord van uw router heeft gewijzigd, gebruik dan dat in plaats daarvan.
Stap 3:
Zodra de webgebaseerde opstartpagina van de router verschijnt klik op de tab Administration (Beheer).

Stap 4:
Klik op Factory Defaults (Fabrieksinstellingen).
 
Stap 5:
Klik op de knop
 (Fabrieksinstellingen herstellen)

.
Nadat u uw router met succes heeft gereset, moet u de instellingen opnieuw configureren.  Kies uit een van de onderstaande links om te leren hoe u uw Linksys-router opnieuw kunt instellen:

Een Linksys router instellen voor een DSL-internetverbinding