Linksys Connect is de installatie software die wordt meegeleverd met uw Linksys Wi-Fi Router.  U kunt het gebruiken om de draadloze beveiliging instellingen van uw router configureren om uw thuisnetwerk veilig te houden.  Om te weten hoe u dit kunt doen volg de onderstaande stappen.

Stap 1:
Open Linksys Connect.  Om dit te doen ga naar Start > All Programs > Linksys Connect. (Start > Alle programma's > Linksys Connect).  Voor Mac® computers, ga naar Go > Applications (Ga > Toepassingen) en start Linksys Connect.

Stap 2:
Klik op Router settings (Router instellingen).
 

Stap 3:
In de sectie Personalize (Personaliseren) klik op Change (Wijzigen).
 
In een pop-upvenster wordt informatie gegeven over het wijzigen van de naam en het wachtwoord van de router.  Klik op Yes (Ja) als u wilt doorgaan.
Stap 4:
U kunt de Router name (SSID) (Naam van de router (SSID)) en Password (Wachtwoord) wijzigen.  Klik vervolgens op Change.(Wijzigen).
Uw wijzigingen worden nu opgeslagen.  Dit kan een paar seconden tot een minuut duren.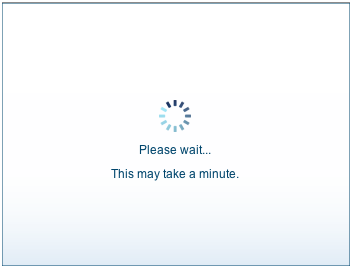 OPMERKING:  Als u klaar bent, kunt u een Easy Setup Key aanmaken door een opslagapparaat aan te sluiten op de USB-poort van uw computer.  U kunt de Router name (Naam van de router) en Password (Wachtwoord) opslaan en deze gebruiken om andere draadloze computers aan te sluiten op uw netwerk.  Voor instructies hoe u uw Easy Setup Key kunt aanmaken en actualiseren klik 

hier

.  Als u ervoor kiest dit niet te doen klik op Cancel (Annuleren).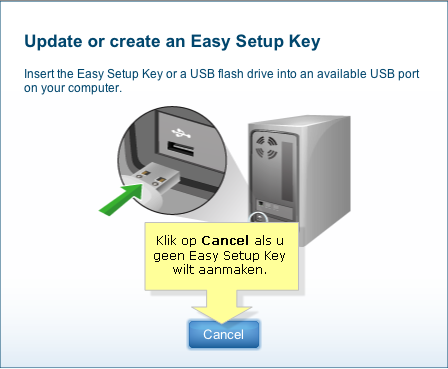 Uw draadloze instellingen zijn gewijzigd.

Zodra draadloze computers verbinding maken met uw netwerk, de Router Name (Naam van de router) en het Password (Wachtwoord) die u heeft aangemaakt zullen de Wireless Network Name (SSID) (Naam van uw draadloos netwerk (SSID)) en uw Password (Wachtwoord) of Network key (Netwerk sleutel) zijn.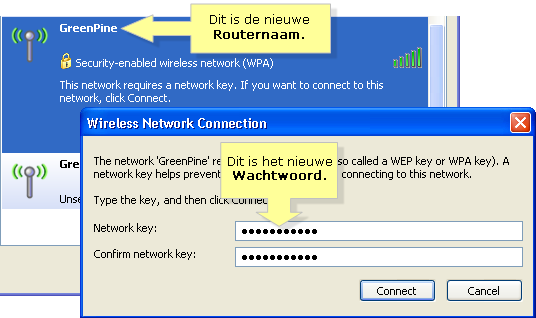 De standaard draadloze beveiliging die in Linksys Connect wordt gebruikt is WPA™/WPA2™.  Het is aanbevolen om WPA2 Personal of WPA2/WPA Mixed Mode te gebruiken als beveiligingsmodi security mode voor uw Linksys Wi-Fi Routers om ervoor te zorgen dat ze werken op volle datasnelheden.
 
OPMERKING:  Als u WEP-beveiliging wilt gebruiken of als geen Linksys Connect heeft en u de draadloze beveiliging van uw Linksys router wilt configureren met de Klassieke-firmware, klik dan 
hier

.  

Als u het router wachtwoord wilt controleren en actualiseren met behulp van het Linksys cloud account, klik 

hier

.




Gerelateerde artikel:

​
Het oplossen van gasttoegangsproblemen met behulp van Linksys Connect