De internetsnelheidstest biedt de volgende informatie over uw huidige internetverbinding:
Toont hoe snel informatie van internet naar uw computer wordt gedownload.

Meet hoe snel de informatie van uw computer naar een andere site wordt overgebracht (geüpload).
Hier is een korte handleiding over het verschil in waarden van uw download- en uploadsnelheid:
Downloadsnelheid – dit heeft betrekking op hoe snel gegevens van websites naar uw computer worden overgedragen.
Uploadsnelheid – 

De snelheid van gegevensoverdracht van uw computer naar internet.
Factoren die de internetsnelheidstest kunnen beïnvloeden, zijn onder andere:
Het tijdstip waarop de test wordt uitgevoerd

Andere gebruikers op internet die de snelheidstest uitvoeren

Andere computers in uw netwerk het internet gebruiken

Bekabelde versus draadloze verbindingen

Het soort draadloze beveiliging dat wordt gebruikt
BELANGRIJK:  De internetsnelheidstestfunctie is alleen beschikbaar op Linksys Connect v1.3 en hoger.
 
In dit artikel wordt uitgelegd hoe u de snelheid van uw internetverbinding kunt testen met behulp van de Linksys Connect-software.  Volg hiervoor de onderstaande stappen:
Stap 1: 
Start
Linksys Connect 

op uw computer door te klikken op Start > All Programs > Linksys Connect (Start > Alle programma's > Linksys Connect).  Als u een Mac®-computer gebruikt, gaat u naar de map Applications (Toepassingen) onder Go (Ga) en dubbelklikt u op Linksys Connect.  Voor stapsgewijze instructies voor het starten van Linksys Connect, klik
hier
. 
Stap 2:
Selecteer 
Router settings
(Routerinstellingen).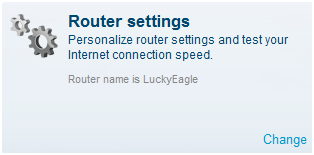 Stap 3:
Selecteer de optie Internet speed (Internetsnelheid) en klik op Launch Test (Test starten).
 

Stap 4:
U wordt dan gevraagd dat de test het meest nauwkeurig is als andere computers en apparaten in uw netwerk geen muziek of video's streamen of bestanden downloaden.  Controleer of uw apparaten geen media streamen of bestanden downloaden.  Klik op Next (Volgende) om verder te gaan.
 
Stap 5:
Klik op
Begin Test
om verder te gaan.
SNELLE TIP:
  De snelheidstest zoekt de dichtstbijzijnde beschikbare server om de test uit te voeren.  Eerst wordt de
Download Speed
(Downloadsnelheid) getest, dan de
Upload Speed
(Uploadsnelheid) en daarna worden de resultaten weergegeven.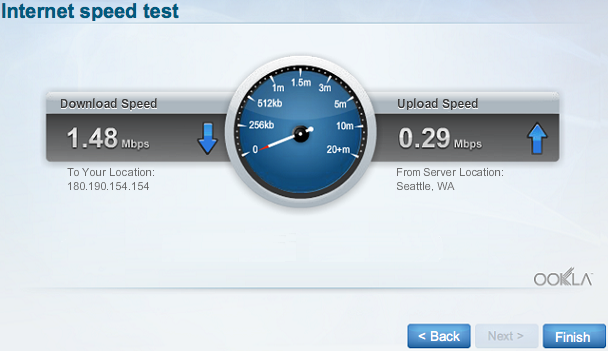 Nadat de snelheidstest kunt u
Restart Test
(Test opnieuw starten) selecteren om de test nogmaals uit te voeren.  U kunt ook
Show History
(Geschiedenis tonen) selecteren om de meest recente resultaten van de test weer te geven.
Stap 6: 
Klik op
Finish
(Voltooien) om terug te gaan naar het hoofdvenster van Linksys Connect.
Als u problemen ondervindt tijdens het uitvoeren van de snelheidstest met uw Linksys Connect-software, kunt u een van de onderstaande stappen proberen:
Sluit de Linksys Connect-software, open deze vervolgens opnieuw en voer de test opnieuw uit.

Schakel tijdelijk de beveiliging op uw computer uit, zoals uw antivirussoftware of Windows®-firewall en voer de test vervolgens opnieuw uit.  U kunt ze opnieuw inschakelen nadat de test is voltooid.

Gebruik een andere computer die ook op uw netwerk is aangesloten en voer de snelheidstest uit met behulp van de Linksys Connect-software.

Verwijder de Linksys Connect-software en installeer deze opnieuw.  U kunt de nieuwste software downloaden van de

Linksys-ondersteuningspagina

.
U moet nu met succes de internet snelheid met behulp van Linksys Connect hebben getest.
Gerelateerde artikelen:
Een snelheidstest op uw netwerk uitvoeren via uw Linksys cloud account
Handmatig starten van de Linksys Connect-installatiesoftware
Compatibiliteitslijst van de Linksys Connect-software