De Externe opslag functie op de Linksys Smart Wi-Fi router beschikt over een functie Media Server waarmee u mediabestanden naar uw DLNA- of UPnP-apparaten in uw netwerk kunt streamen.  Volg onderstaande instructies om deze functie in te schakelen via uw Linksys cloud account.

DLNA (Digital Living Network Alliance) is een standaard die elektronicabedrijven hebben ontwikkeld om te zorgen voor interoperabiliteit van apparaten in een netwerk.  Als een DLNA Certified®-apparaat is verbonden met uw thuisnetwerk, kan dit automatisch communiceren met andere verbonden DLNA Certified®-apparaten.
OPMERKING:  De DLNA-server functie is alleen beschikbaar op de Linksys Smart Wi-Fi Routers.
UPnP (Universal Plug en Play) is een verzameling protocollen voor de detectie van apparaten in een netwerk en automatische configuratie en gegevensoverdracht via een peer-to-peer-verbinding.
Stap 1:
Stap 2:
Klik op External Storage (Externe opslag).
Stap 3:
Klik op het tabblad Media Server (Mediaserver).
Stap 4:
Stel Enable Media Server (Mediaserver inschakelen) in op ON (AAN).

Scan Folders (Mappen scannen) – U kunt instellen of uw mediamappen volgens een bepaalde regelmaat op wijzigingen worden gescand of u kunt handmatig scannen door op de knop Scan now (Nu scannen) te klikken.
Als u gedeelde mediamappen toevoegt, kan uw router specifieke mappen scannen op mediabestanden.  Volg de onderstaande instructies:
Stap 1:
Klik op Add New Folder (Nieuwe map toevoegen).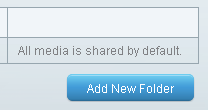 Stap 2:
Selecteer een map die u wilt toevoegen en typ de gewenste naam in het veld Share name (Naam share).
Stap 3:
Klik op OK.
En verder?
 
Uw DLNA Certified® en UPnP-apparaten kunnen nu toegang tot de mediabestanden in uw USB-opslag die verbonden is met uw router verkrijgen.  U kunt nu audio en video streamen binnen uw netwerk.
Wanneer u de functie Media Server (Mediaserver) heeft ingesteld op uw Linksys Smart Wi-Fi router, kunt u desgewenst het bereik van uw draadloze signaal vergroten om een optimale dekking binnen uw netwerk te bieden.  Lees de volgende artikelen voor meer informatie: