De Linksys Smart Wi-Fi is een gratis service waarmee u uw router kunt openen, uw thuisnetwerk direct kunt configureren en controleren vanaf waar u ook bent.  Als u de functies van Linksys Smart Wi-Fi wilt benutten met uw Linksys Smart Wi-Fi router met klassiek weergave, moet u een firmware-upgrade uitvoeren.

Uw router is in staat om automatisch of handmatig te upgraden.  Wanneer u de handmatige upgrade wilt uitvoeren, moet u eerst de firmware downloaden van de
Linksys ondersteuningspagina
.  Raadpleeg de onderstaande instructies om te begrijpen en te leren hoe u dit doet.

Handmatig firmware upgrade van de Linksys Smart Wi-Fi Routers

Voordat u begint met de upgrade, controleer of uw router een USB opslag-poort heeft.  Als dit zo is, controleer dan of er geen apparaat (bijvoorbeeld printer, harde schijf) is aangesloten voordat u het proces start.
Stap 1:
Ga naar de support pagina van uw apparaat en download de firmware van uw Linksys Smart Wi-Fi router.

SNELLE TIP:  U kunt op de bijbehorende links klikken om de ondersteuningspagina's van elk product te bezoeken.
Stap 2:
Scroll naar beneden naar de sectie DOWNLOADS / FIRMWARE en klik vervolgens op Download Software.
 
Stap 3:
Klik op de hardware versie van uw apparaat.
 
Stap 4: 
Selecteer de firmware van uw apparaat en klik op Download.
 
Stap 5: 
Lokaliseer het bestand dat u heeft gedownload.  Klik met de rechtermuisknop erop en klik op Extract Here (Hier uitpakken).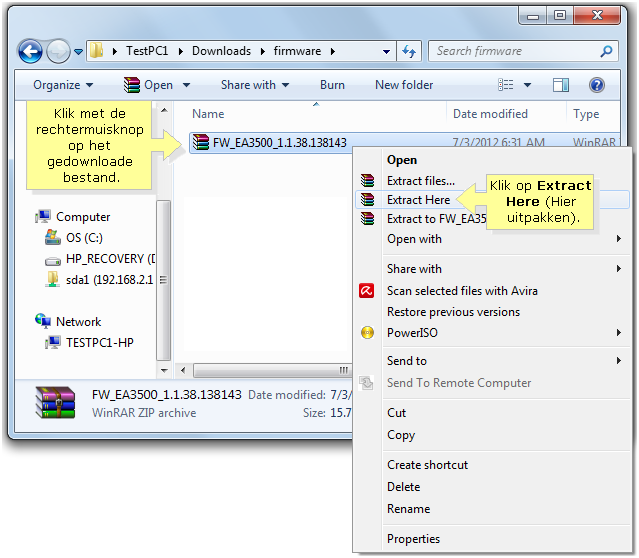 De uitgepakte firmware wordt weergegeven in de map.
 
 
Stap 6: 
Open een browser en log in op de webgebaseerde opstartpagina van de router door "192.168.1.1" in de adresbalk in te voeren.  De standaardgebruikersnaam en wachtwoord is "admin".
 
OPMERKING:  Als u het wachtwoord heeft gewijzigd gebruik het nieuwe wachtwoord.

 
Stap 7:
Klik op Administration (Administratie) en klik vervolgens op Firmware Upgrade.
 
Stap 8:
Selecteer Manual Upgrade (Handmatige upgrade) en klik op de knop Browse… (Bladeren...).
 
Stap 9:
Zoek het bestand dat u uitgepakt heeft en klik op Open (Openen).
 
Stap 10:
Klik op Start to Upgrade (Upgrade starten).  
 
Er verschijnt een waarschuwingsvenster met de mededeling Upgrade must NOT be interrupted!! (Onderbreek de upgrade NIET!!). 
 
Wanneer de upgrade is voltooid, wordt het volgende bericht weergegeven.  Wacht tot het aan/uit-lampje van de router effen brandt.
Stap 11:
Log opnieuw in op de webgebaseerde opstartpagina van uw router door het IP-adres van de router in te voeren. 

 
Stap 12:
U wordt doorgestuurd naar de Sign In (Aanmelden) pagina.  Als u al een Linksys cloud account gemaakt, voer uw logingegevens op de velden e-mailadres en wachtwoord en klik op Sign in (Aanmelden).
 
Als u geen Linksys cloud account heeft, klik op Create Account (Account aanmaken) en volg vervolgens de stapsgewijze structies.
 
Stap 13:
Na het inloggen bij het gebruiken van Linksys cloud account, wordt u gevraagd om uw router te koppelen aan uw account.  U moet het beheerderswachtwoord van uw routers invoeren.  Standaard is dit admin.

U kunt alleen uw router koppelen binnen hetzelfde netwerk (van achter de router ofwel bekabeld of draadloos).  U zult alleen worden gevraagd om uw router te koppelen de eerste keer dat u inlogt met uw cloud account, zolang de router verbinding heeft met internet.  Zodra u uw router heeft gekoppeld, zullen eventuele toekomstige logins uw cloud email adres en wachtwoord vereisen als uw router online is; dit wordt beschouwd als een eenmalige anmelding.

 
Als uw router geen internet connectiviteit heeft wordt u gevraagd om de beheerderwachtwoord van de router in te voeren,dra het internet is hersteld, kunt u uw single sign-on cloud account blijven gebruiken.
 
Uw  router is nu met succes upgraded naar Linksys Smart Wi-Fi.  Één voordeel van het hebben van een Linksys cloud account is de mogelijkheid voor het uitvoeren van auto-updates.  Als u wilt voorkomen dat uw router automatische firmware-updates ontvangt moet u de Automatic Firmware Update (automatische firmware-update functie) uitschakelen.  Volg de onderstaande stappen:
 
Stap 1:
Log in op de webinterface van de router.  Om dit te doen kunt u ofwel "http://192.168.1.1" in voeren of "myrouter.local" op de adresbalk of ga naar 

http://linksyssmartwifi.com

 en voer uw Linksys cloud account inloggegevens.
 
Stap 2:
Op de Linksys Smart Wi-Fi pagina, klik Connectivity (Connectiviteit).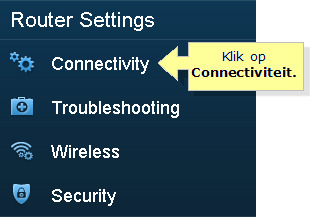 Stap 3:
Op de Basic (Basis) tab, klik de Automatic (Automatisch) vak en verwijder het vakje en klik op OK.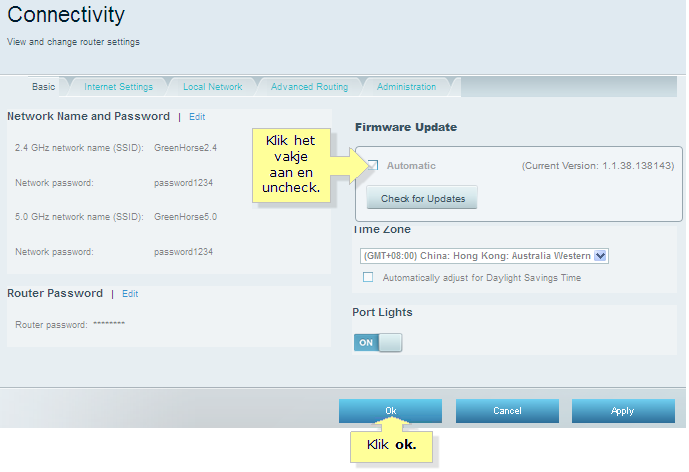 Meer over Linksys Smart Wi-Fi
 
Behalve de automatische firmware-update, biedt de Linksys Smart Wi-Fi veel voordelen.  Daarmee kunt u toegang hebben tot functies en mobiele apps waarmee u uw thuisnetwerk overal op elk gewenst moment kunt beheren en uw digitale ervaringen gemakkelijker kunnen beheren.  U kunt ook:
Tik direct in uw thuisnetwerk om de verbindingsstatus van uw apparaten te controleren

Doe intelligente media prioriteit voor high-definition video streaming en online gaming

Controleer of blokkeer de computer van uw kinderen om toegang te krijgen tot schadelijke websites

Aan / uitschakelen van internetverbindingen op apparaten in uw huis van waar dan ook

Geef een gast toegang tot het internet

Prioriteren welke apparaten op uw netwerk de meeste bandbreedte krijgen om de lagertijden en buffering te elimineren