De onderstaande instructies zullen u begeleiden bij het downloaden en aansluiten van uw USB-printer op uw netwerk met behulp van een Mac® computer via de Linksys USB Control Center software.
 
De Linksys USB Control Center software is beschikbaar op elke Linksys Smart WiFi Routers.
 
Voordat u de USB-printer aansluit, zorg ervoor dat het besturingssysteem (OS) van uw computer compatibel is met de Linksys USB Control Center. Raadpleeg de onderstaande lijst:
macOS®
Linksys USB Control Center
Versie 2.2.0/2.3.0

Mojave 10.14

✓

High Sierra 10.13

✓

Sierra 10.12

✗

(Klik hier

 voor een tijdelijke oplossing)

El Capitan 10.11

✗

(Klik hier

 voor een tijdelijke oplossing)

Yosemite 10.10

✓

Mavericks 10.9

✓

Mountain Lion 10.8

✓

Lion 10.7

✓

Snow Leopard 10.6.1 of later

✓

Leopard 10.5.8 ofr later

✓
1. Log in op uw Linksys cloud-account via de LinksysSmartWiFi.com-pagina.
 
2. Klik op Network Map (Netwerk toewijzen) of Device List (Lijst met apparaten) hulmiddel in het navigatiemenu van uw Linksys cloud account.
 
3. In de rechterbovenhoek klik op Add a Device (Apparaat toevoegen).
 
 
Desgewenst kunt u ook op

 (Een apparaat toevoegen) klikken in de Network Map/Device List (Network map/Lijst met apparaten) op de startpagina van uw Linksys cloud account.
 
4. Selecteer USB Printer op de pagina Select the type of device to add to your network (Selecteer het type apparaat dat u aan uw netwerk wilt toevoegen).

 
5. Sluit uw printer aan op de USB-aansluiting van uw router.
 
 
6. Onder For Mac categorie, selecteer de Click here (Klik hier) link om de gratis Linksys USB Control Center software te downloaden.
 
 
Bij de vraag of u Run the program (Het programma wilt uitvoeren) of Save (Opslaan) op uw computer, kiest u Save it to your computer (Opslaan op computer) en slaat u het programma op de standaardlocatie of op een andere locatie op.
 
Wanneer het downloaden is voltooid, verschijnt een map met het Linksys USB Control Center-installatieprogramma.
 
7. Dubbelklik op USB Control Center Installer om de installatie te starten.
 
 
8. Wanneer een waarschuwingsbericht verschijnt, klikt u Open (Openen) om door te gaan.
 
 
9. Wanneer het venster Welcome to the Linksys USB Control Center Installer (Welkom bij de Linksys USB Control Center Installer) verschijnt, klikt u op Continue (Doorgaan).
 
 
10. Kies de map waarin de Linksys USB Control Center-software wordt geïnstalleerd door op de knop Change Install Location (Installatielocatie wijzigen) te klikken. Klik vervolgens op Install (Installeren) om door te gaan.
 
 
11. Geef de gebruikersreferenties voor uw Mac op en klik op Install Software (Software installeren).
 
 
12. Klik op de knop Continue Installation (Doorgaan met installeren) wanneer de volgende aanwijzing verschijnt.
 
 
U ontvangt het bericht dat de Linksys USB Center Control-software wordt geïnstalleerd op uw computer.
 
 
13. Wanneer het venster The installation was successful (De installatie is voltooid) verschijnt, klikt u Restart (Opnieuw opstarten).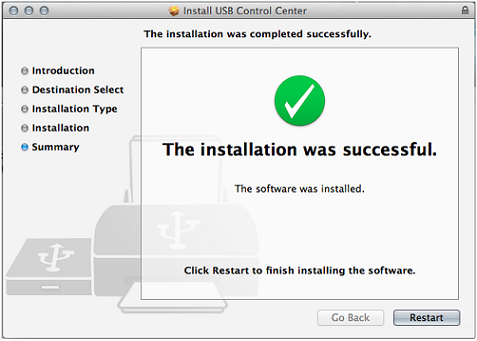 Klik nadat u uw Mac opnieuw heeft opgestart op het pictogram Linksys USB Control Center om de printer te installeren, zodat deze met uw router en andere netwerkapparaten kan communiceren.
 
Uw printer heeft een door de fabrikant toegewezen standaardnaam, bijvoorbeeld Canon Pixma MP490. Als u de printer een andere naam heeft gegeven, bijvoorbeeld Kitchen Printer, wordt deze naam weergegeven.
 
Als u geen printer kunt toevoegen of de naam van uw printer niet verschijnt in de lijst met beschikbare printers wanneer u probeert af te drukken, moet u de printerdriver (software) op uw computer installeren. Plaats de cd die bij uw printer is geleverd in elk van de computers waartoe u toegang wilt tot de printer. Nadat u deze stap heeft uitgevoerd, kunt u de printer opnieuw toevoegen via het Linksys USB Control Center. Het is ook het beste om eerst te controleren of uw printer werkt wanneer deze rechtstreeks op uw Mac-computer is aangesloten.
 
 
Meer informatie:
Hoe uw draadloze apparaten aansluiten op uw netwerk met behulp van de Linksys cloud account