Met de Linksys range extenders kunt u het bereik van uw draadloze netwerk uitbreiden door het draadloze signaal van uw router of gateway te ontvangen en vervolgens uit te zenden naar andere gebieden binnen het bereik in uw huis.  Hierdoor kunnen draadloze apparaten in dat gebied een draadloze verbinding hebben.
Dit artikel zal u begeleiden om uw Linksys range extender te configureren met uw gateway.
Voordat u verdergaat met de stappen, zorg ervoor dat u de correcte Wachtzin of netwerk wachtwoord van uw router of gateway heeft.  Deze zullen worden gebruikt om uw range extender correct in te stellen.  Om meer te leren over hoe de gateway draadloze instellingen te controleren, klik dan

hier

.  Als u geen Linksys router of gateway gebruikt, neem contact op met de fabrikant van uw apparaat om u te helpen bij het verkrijgen van de draadloze instellingen.
SNELLE TIP:  Het type internet verbinding in sommige gebieden maakt het mogelijk dat de Linksys range extender soms niet kan worden toegevoegd aan uw bestaande netwerk te wijten aan enkele problemen bij het synchroniseren van de instellingen van het apparaat.  U kunt uw internet provider (ISP) bellen om uw type internetverbinding te controleren.
Stap 1:
Steek de Linksys range extender in een stopcontact en wacht tot het LED-lampje stabiel brandt.
Stap 2:
Met behulp van een draadloze computer, klik op het draadloze netwerk

 pictogram in uw systeemvak voor het weergeven van een lijst van draadloze netwerken binnen het bereik van uw computer en zoekt u naar het netwerk van uw range extender.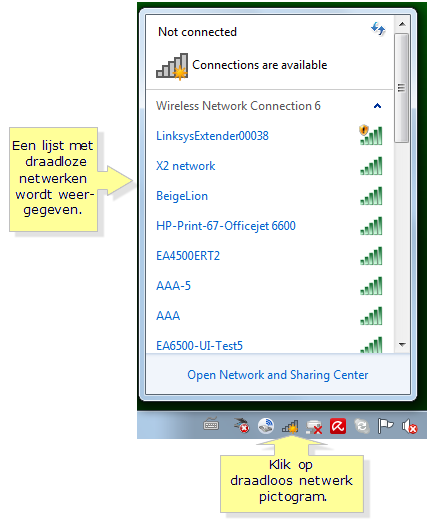 OPMERKING:  De standaard naam van het netwerk voor de range extender is LinksysExtender plus de laatste vijf (5) cijfers in de serie nummer.  Op bovenstaande afbeelding, hebben we LinksysExtender00038 als voorbeeld gebruikt.
Stap 3:
Klik op de Linksys range extender netwerk en wacht terwijl uw computer verbinding probeert te maken.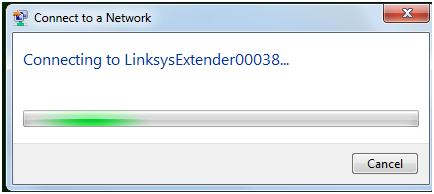 Stap 4:
Een prompt verschijnt met de vraag of u uw netwerk wilt instellen.  Klik op Connect to the network without setting it up (Verbinding maken met het netwerk zonder het instellen) klik daarna op OK.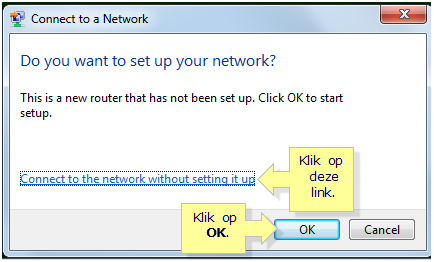 Het draadloze netwerk pictogram in het systeemvak geeft vervolgens een geel uitroepteken weer, zodra de computer is aangesloten op het netwerk van de range extender.  Dit is een aanwijzing dat de computer verbonden ismet een draadloos netwerk, maar geen internet verbinding heeft.
Stap 5:
Klik op Wireless network (Draadloos netwerk) 

en controleer of de computer is verbonden aan het netwerk van de range extender.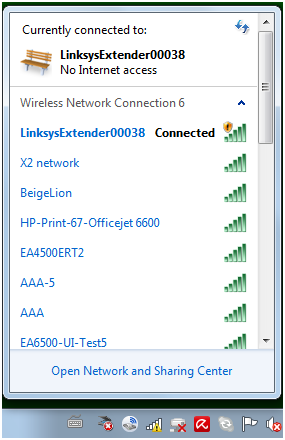 Stap 6:
Open een webbrowser en voer het standaard IP-adres "192.168.1.1" in.  U wordt gevraagd om een Username (Gebruikersnaam) en Password (Wachtwoord).
OPMERKING:  De standaard gebruikersnaam en wachtwoord is admin.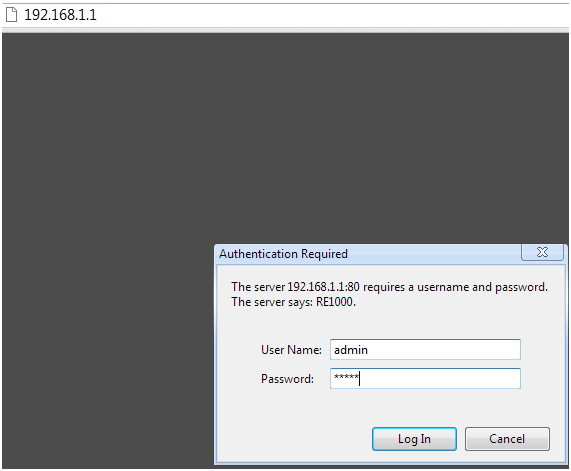 Stap 7:
Als de webgebaseerde opstartpagina verschijnt, klik op Wireless (Draadloos).  Een lijst met draadloze netwerken gedetecteerd door de range extender zal onder Site Survey worden weergegeven.  Selecteer de naam van uw bestaande netwerk en klik op Connect (Verbinden).
OPMERKING:  Klik op Refresh (Vernieuwen) als u de naam van uw netwerk niet in de lijst ziet staan.
Stap 8:
Een venster zal dan vragen om het Passphrase (Wachtzin).  Typ uw netwerk wachtwoord in en klik op Save Settings (Instellingen Opslaan).
Stap 9:
Een venster verschijnt die weergeeft dat de instellingen zijn opgeslagen.  Klik op Continue (Doorgaan) om de pagina te sluiten.

U moet nu met succes uw Linksys range extender geconfigureerd hebben met uw gateway.  U kunt nu verder om uw draadloze computers en apparaten aan te sluiten op uw netwerk om internettoegang te krijgen.  Voor meer informatie over hoe uw computer te verbinden met uw draadloos netwerk, klik dan

hier

.
Gerelateerd artikelen: