Wat is een Easy Setup Key (Sleutel voor eenvoudige installatie)?

De Easy Setup Key is een software-installatieprogramma dat is aangesloten op de USB-poort van de computer om de Linksys Connect-software te installeren en de eerste installatie van uw Linksys Wi-Fi Router of Linksys Smart Wi-Fi Router uit te voeren.  Dit apparaat heeft ook een opslagmogelijkheid die netwerkinformatie verzamelt die kan worden gebruikt als u meer computers aan uw netwerk wilt toevoegen.

Het wordt aangeraden een nieuwe Easy Setup Key te maken om de netwerkinstellingen van uw router op te slaan.  Het enige wat u nodig heeft, is een standaard USB-apparaat dat alleen gebruikt wordt als Easy Setup Key om uw netwerkinformatie op te slaan.

BELANGRIJK:  De Easy Setup Key is GEEN draadloze adapter en werkt alleen als u de Linksys Connect software heeft geïnstalleerd.

OPMERKING:  Als u een Linksys Wi-Fi router of Linksys Smart Wi-Fi Router gebruikt kunt u uw eigen Easy Setup Key aanmaken voor uw draadloze netwerk door het gebruik van een USB flash drive.  Om meer te weten over de Easy Setup Key, klik 

hier

.

Waarom het nuttig is uw Easy Setup Key te actualiseren:

Wanneer u netwerkinstellingen wijzigt (netwerknaam, wachtzin of wachtwoord) dient u de Easy Setup Key te updaten (actualiseren).  Het actualiseren van de Easy Setup Key is ook een eenvoudige manier om uw computers opnieuw te verbinden met uw Linksys Wi-Fi of Smart Wi-Fi router.  Voor meer informatie over de Easy Setup Key, klik 

hier

. 
Om te weten hoe u een Easy Setup Key kunt maken of actualiseren, volg onderstaande stappen:
Stap 1: 
Dubbelklik op
Linksys Connect
 pictogram 

op uw bureaublad om de software te openen en selecteer
Router settings
 (Routerinstellingen).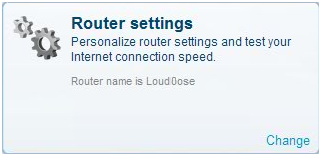 SNELLE TIP:  Als u het pictogram niet op uw bureaublad kunt vinden, kunt u Linksys Connect op een Windows XP/Vista/7 computer openen door naar Start menu > All Programs > Linksys Connect (Start > Alle programma's > Linksys Connect) te gaan.  Voor Windows 8, schuif de cursor over de rechterbovenhoek van het scherm om de Charms bar te openen.  Open Search (Zoeken) en voer Linksys Connect in.
Om Linksys Connect te openen op een Mac computer klikt u op de map Applications (Toepassingen) in Go (Ga) en start u Linksys Connect.  Klik

hier

voor gedetailleerde instructies.
Stap 2: 
Op de pagina Router settings (Router instellingen) klikt u op Update or create key (Sleutel bijwerken of aanmaken).
Stap 3:
Sluit uw Easy Setup Key of USB-flashstation aan op de USB-ingang van uw computer.  Wacht terwijl de draadloze instellingen gekopieerd worden.
OPMERKING:  Controleer of uw computer het USB-flashstation detecteert.  Zo niet, controleer dan of de USB-ingang op uw computer werkt.  U kunt proberen een ander USB-apparaat op deze ingang aan te sluiten om er zeker van te zijn dat de ingang werkt.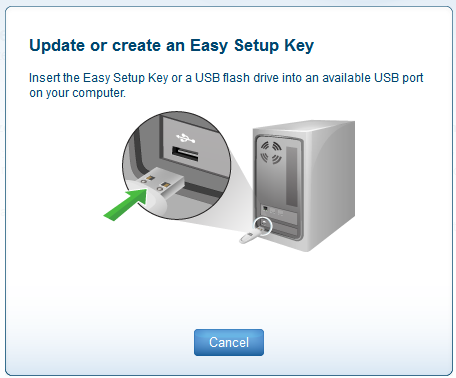 BELANGRIJK:  Als u een nieuwe Easy Setup Key wilt aanmaken met een gewone USB-flashdrive, kunt u uw USB-stick het best eerst formatteren.  Het formatteren van de USB-flashdrive zal alle data die erop zijn opgeslagen, wissen.  Om te voorkomen dat u de bestanden verliest, maakt u een back-up voor uw gegevens voordat u gaat formatteren.
Stap 4: 
U ziet vervolgens een pagina waarop wordt aangegeven dat de The Easy Setup Key has been updated (De Easy Setup Key is bijgewerkt).  Klik op Close (Sluiten), verwijder de Easy Setup Key uit uw computer en bewaar deze op een veilige plek.
Normaal gesproken neemt de netwerkinformatie voor uw Linksys Wi-Fi router of Linksys Smart Wi-Fi router die wordt opgeslagen op de Easy Setup Key zo'n 20 tot 30 Mb in beslag.

Als u een tweede computer wilt toevoegen aan uw draadloze netwerk, steekt u deze Easy Setup Key in de computer.  Voor meer informatie klikt u

hier

.
Gerelateerde artikelen: