Wanneer u probeert extra computers aan te sluiten met de Easy Setup Key kan het zijn dat u de volgende foutmelding krijgt: "This Easy Setup Key can not be used with this router" (Deze Easy Setup Key kan niet worden gebruikt met deze router).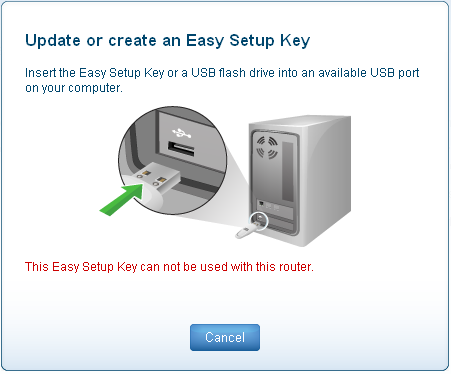 Om deze fout te verhelpen, moet u de Easy Setup Key formatteren en een nieuwe aanmaken.
OPMERKING:  Door uw USB flash drive te formatteren worden alle gegevens gewist die u op het station heeft opgeslagen.  Sla de gegevens ergens anders op voordat te formatteren om te vermijden dat u uw bestanden kwijtraakt.

Stap 1:
Steek een USB flash drive in de USB-poort van uw computer.  Klik met de rechtermuisknop op het pictogram van uw USB flash drive en selecteer de optie Format... (Formaterren...).
 

Stap 2:
Selecteer in het vervolgkeuzelijst in File system (Bestandsysteem) het door u gekozen bestandsformaat en klik op Start.
 

OPMERKING:  In dit voorbeeld is het gekozen formaat FAT32.

Stap 3:
Klik op OK om het formatteren te beginnen.
 
Stap 4:
Zodra het proces is voltooid, maakt u een nieuwe Easy Setup Key aan.  Voor instructies, klik
hier
.