De Media Prioritization (Media Prioritisering) Tool van uw Linksys Smart Wi-Fi Router stelt u in staat om bandbreedte toe te wijzen aan apparaten, toepassingen en games die verbinding maken met streaming of real-time media-diensten.  Om deze functie te kunnen gebruiken, moet de computer of het apparaat dat u nodig heeft om prioriteit te geven, momenteel zijn aangesloten op het netwerk van uw router.
Volg de onderstaande stappen om te weten te komen hoe u deze functie kunt gebruiken:
Stap 1:
Ga naar uw Linksys Smart Wi-Fi Account.  Klik

hier

voor instructies.
Stap 2:
Klik op Media Prioritization (Media Prioritisering).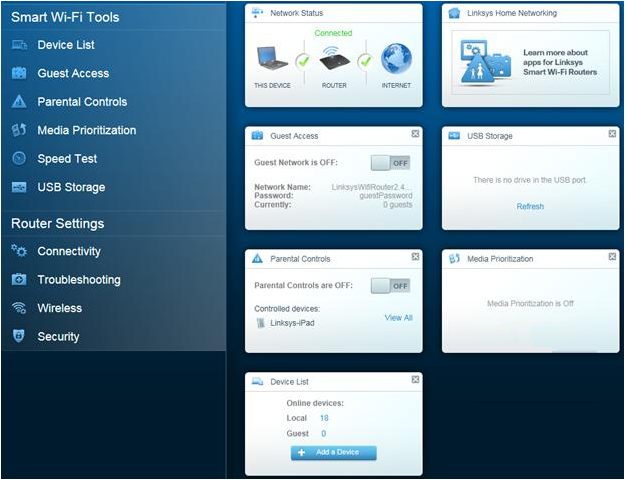 SNELLE TIP:  De Device List (Apparatenlijst) is voor sommige Linksys Smart W-Fi router ook bekend als de Network Map Tool.  Als u meer informatie wilt over deze functie, klikt u

hier

.

Stap 3:
Schuif de schakelaar naar ON (AAN). 

Stap 4:
Gebruik de cursor van uw muis om apparaten uit de Normal Priority lijst naar de sectie Priority High te slepen en te verplaatsen.  U kunt tot drie (3) apparaten prioriteren.
OPMERKING:  Naast apparaten, kunt u ook Applications (Toepassingen) of Online Games die u hogere bandbreedte prioriteit wilt toewijzen kiezen.  Om dit te doen, herhaalt u stappen 1-3 en, in plaats van het kiezen van apparaten, kiest u toepassingen en online games uit de beschikbare keuzelijst.  Om te weten hoe u nieuwe toepassingen of online games toe kunt voegen, klik

hier

.
Stap 5:
Klik op OK om de instellingen toe te passen. 
U heeft nu de stappen uitgevoerd om apparaten, toepassingen en online games met behulp van de Media Prioritazion Tool een hogere prioriteit te geven.