Met de nieuwe Linksys Smart Wi-Fi Router, kunt u gemakkelijk meer foto's, muziekbestanden en documenten delen binnen het netwerk met een hogere snelheid. U kunt de USB-poorten ook gebruiken voor het verbinden van uw USB-printer.

SNELLE TIP: Voor instructies over hoe u uw USB-printer kunt configureren, klik hier

.
Dit artikel helpt u bij het configureren van shares en vergunningen voor harde schijven die verbonden zijn met de Linksys Smart Wi-Fi Router.
OPMERKING: De Linksys Smart Wi-Fi Router AC 1750 HD Video Pro EA6500 ondersteunt simultane dual-USB wordt hier gebruikt als een voorbeeld.
Waar u aan moet denken voor u begint:
Installatie van de apparaten is niet nodig omdat USB-opslagapparaten plug and play apparaten zijn. Ze worden automatisch gedetecteerd wanneer ze verbonden worden met de USB-poort van de router.

Uw Linksys Smart Wi-Fi Router moet juist geconfigureerd zijn en goed functioneren.

De Linksys Smart Wi-Fi Routers met USB-opslagfunctie ondersteunen alleen het FAT-, NTFS- en HFS+-formaat. Zorg ervoor dat u het formaat van uw opslagapparaat controleert voordat u doorgaat met de onderstaande stappen om configuratieproblemen te voorkomen. Uw apparaat wordt mogelijk niet gedetecteerd als het een ander formaat heeft dan wat de router ondersteunt.. 
Stap 1:
Sluit uw USB-opslagapparaten aan op de USB-poort van de router.
OPMERKING: Als u de Linksys Smart Wi-Fi Router EA6500 gebruikt dan kunt u maximal twee USB-oplagapparaten aansluiten.
Stap 2:
Open de Linksys Smart Wi-Fi Router interface via een browser zoals Safari® of Internet Explorer. Voor meer informatie, klik hier.
OPMERKING: Als u liever de Local Access (Lokale toegang) interface Linksys Smart Wi-Fi Router gebruikt, klik dan hier.
Stap 3:
Klik op het menu USB Storage (USB-opslag) in het linker venster.
Stap 4:
Als uw hard drive gedetecteerd is, wordt het automatisch weergegeven in de USB Storage (USB-oplag). Wanneer er twee harde schijven worden gedetecteerd, verschijnt er een dual USB op het scherm.
BELANGRIJK: Zorg ervoor dat uw opslagapparaat juist verbonden is aan de USB-poort van uw router. Zo niet, dan kan het volgende bericht verschijnen en zal u niet in staat zijn de instellingen te configureren:
 
Stap 5:
Op het scherm USB Storage (USB-opslag) kunt u uit de volgende vier tabbladen kiezen om de harde schijven te configureren:
Het tabblad Status heeft een keuzemenu wanneer er twee harde schijven worden gedetecteeerd. U kunt de gewenste harde schijf selecteren voor meer informatie over het apparaat.
OPMERKING: U kunt de namen van de harde schijven wijzigen door naar Properties (Eigenschappen) te gaan, zodat ze makkelijker te identificeren zijn via de USB hulpprogramma. Echter, als u schakelt tussen de router en de computer, zullen toegewezen stations op de computer opnieuw toegewezen moeten worden omdat de naam van het station is gewijzigd.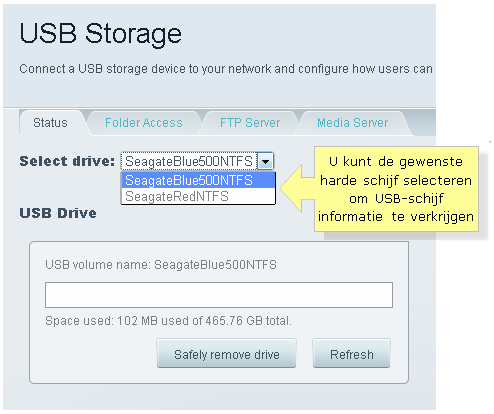 Het tabblad Folder Access (Map toegang) geeft u de mogelijkheid om de harde schijf bestanden veilig te stellen en vergunningen af te geven aan specifieke gebruikers naar uw keus. Als u de Secure Folder Access (Veilige map-toegang) optie UItschakelt heeft is alle inhoud toegankelijk voor alle gebruikers in uw netwerk. Door de optie IN te schakelen kunt u specifieke inhoud beschikbaar stellen voor specifieke gebruikers.
Volg onderstaande stappen om vergunningen voor een gebruiker voor een share te configureren:
Stap 1:
Selecteer de harde schijf in het keuzemenu.
Stap 2:
Creëer of bewerk een gebruiker.
Stap 3:
Klik op Shares of Select share

.
Stap 4:
In het nieuwe scherm kunt u een bestaande share selecteren of het gehele opslagapparaat delen.

De FTP Server optie is van toepassing op beide harde schijven.
De functie Media Server (UPnP/DLNA) laat u mediagegevens delen binnen uw netwerk met behulp van een media-geschikt apparaat zoals een tablet of een netwerk-TV.
Om dit te kunnen uitvoeren dient u de geschikte harde schijf te selecteren om de media server shares te configureren.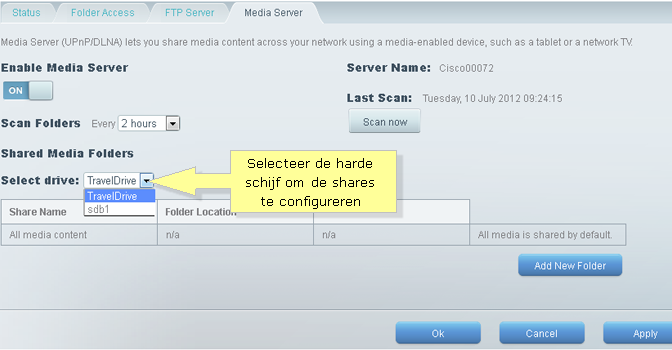 OPMERKING: De opties Scan Folders (Mappen scannen) en Scan Now (Nu scannen) zijn toegankelijk voor beide harde schijven.
Nadat beide harde schijven juist zijn geconfigureerd, heeft u toegang tot beide harde schijven door het IP-adres van de Linksys Smart Wi-Fi Router in te typen in een browser zoals Windows Explorer.

Gerelateerde artikelen: