Hoe installeer ik mijn Linksys Wi-Fi Router zonder de installatie-cd te gebruiken?
 
In het geval dat uw computer geen cd-drive heeft of u de installatie-cd verloren bent, kunt u nog steeds uw Linksys Wi-Fi Router installeren door het downloaden van de Linksys Connect installatiesoftware van de Linksys ondersteuningspagina.  Om dit te doen, moet u uw computer eerst aansluiten op met een netwerk met een actieve internetverbinding of rechtstreeks op de modem.
 
Als alternatief kunt u ook uw Linksys Wi-Fi router handmatig installeren.  Klik op de onderstaande links voor instructies over hoe u uw router kunt installeren op basis van uw Internet Service Provider (ISP).



Een Linksys-router instellen met kabelinternetservice




Een Linksys-router instellen met DSL-internetservice




Een Linksys-router instellen met een statisch IP-account op een klassieke webgebaseerde opstartpagina



BELANGRIJK:  Niet alle Linksys router zijn compatibel met Linksys Connect.  Om te weten welke routers compatibel zijn klik

hier

.  Als u de firmware of driver van uw Linksys apparaat wilt downloaden ga naar de Linksys ondersteuningspagina en zoek naar de product pagina van uw apparaat.  Voor instructies klik

hier

.

Stap 1:
SNELLE TIP:  Als u het model nummer of de hardware versie van uw apparaat niet weer, klik op de How do I find my model number? (Hoe vind ik mijn modelnummer?) link.

Stap 2:
Kik op de DOWNLOADS/FIRMWARE knop.
Stap 3:
Klik op Hardware version (Hardware versie) van uw apparaat.
Stap 4:


Zoek de installatiesoftware van uw computer en klik op Download.
OPMERKING:  Zodra het bericht End User License Agreement (Licentieovereenkomst voor eindgebruikers) verschijnt klik op de AGREE (Accepteren) knop.
Stap 5:
Sla de installatiesoftware op en selecteer een locatie op uw computer om het bestand op te slaan.  Het is aanbevolen dat u het bestand op de Desktop (Bureaublad) van uw computer opslaat.
 
Stap 6:


Dubbelklik op het Linksys Connect

 installatie bestand die u zojuist gedownload heeft.



Stap 7:


Klik op link voor de Licence Terms (Licentievoorwaarden) om de licentievoorwaarden en informatie te lezen.  Na dit gelezen te hebben vink vervolgens het selectievakje in.  Klik op Next (Volgende).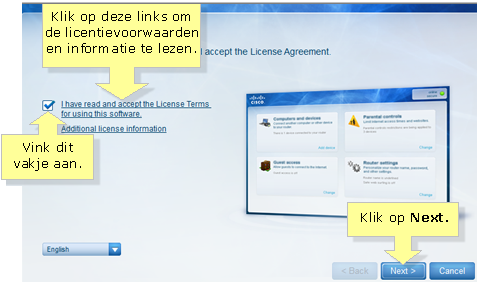 Stap 8:


Volg instructies 1 en 2 op het installatiescherm.  Als uw internetverbinding niet via een modem gaat maar via satelliet, T1 of optische vezel, sluit u de bestaande Ethernet-kabel aan op de gele internetpoort van de router.  Klik op Next (Volgende).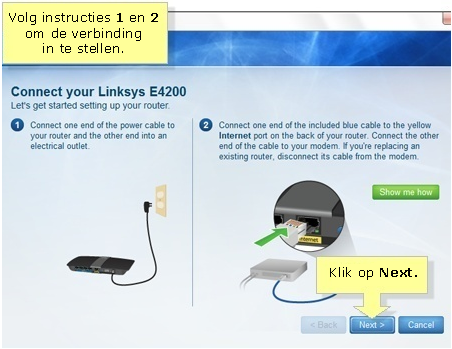 OPMERKING:  Linksys Connect zal dan de configuratie van uw netwerk starten.  Sluit het venster niet.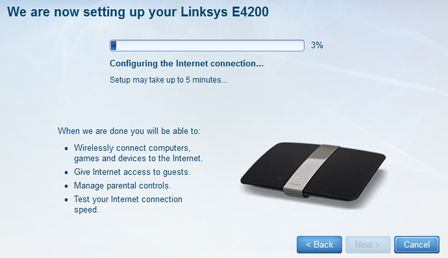 Er zal automatisch een unieke router naam (SSID) en wachtwoord voor uw netwerk aangemaakt worden.  U kunt deze informatie wijzigen door de automatisch aangemaakte SSID en wachtwoord van uw draadloos netwerk te bewerken.  Klik op Next (Volgende) wanneer u klaar bent.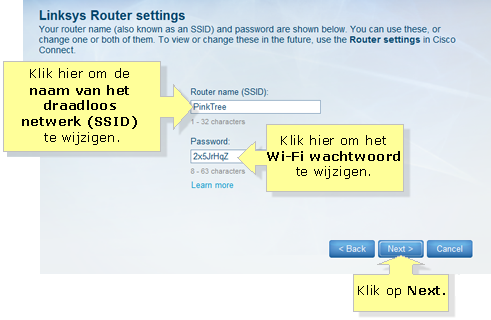 Stap 10:


Uw type internetverbinding zal automatisch geïdentificeerd worden tijdens de installatie.  Als de software een DSL-verbinding detecteert, zal u gevraagd worden om de accountgegevens in te typen.  Klik daarna op Next (Volgende).  

SNELLE TIP:  Uw internetprovider (ISP) voorziet u van zowel de accountnaam en wachtwoord.  Als u ze niet heeft, neem dan contact op met uw ISP.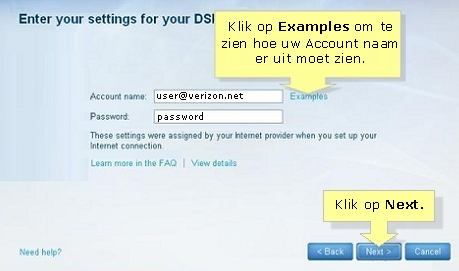 OPMERKING:  Tijdens de installatie zullen de instellingen van uw router geconfigureerd worden en zal geprobeerd worden verbinding te maken met internet.  Als dit mislukt of de installatie blokkeert tijdens het proces, moet u extra stappen ondernemen om dit probleem te verhelpen.  Klik

hier

voor meer informatie.
Stap 11:
Op het scherm verschijnt een bevestiging dat u verbonden bent met het internet.  Klik op OK om verder te gaan.
 
U zal worden doorverwezen naar het hoofdvenster van Linksys Connect.  Dit venster bevat opties waarmee u uw netwerkinstellingen kunt beheren en personaliseren.  Echter, als er een fout is opgetreden tijdens het installeren van uw Linksys-apparaat, klik

hier

voor meer informatie.
 
OPMERKING:  De Linksys Wi-Fi Routers, E800, E900, E1700, en E2100L hebben de functies Parental controls (Ouderlijk toezicht) en Guest access (Gast toegang) niet.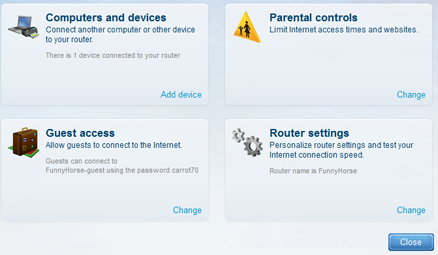 OPMERKING:  Als u de draadloze instellingen van uw Linksys Wi-Fi Router wilt configureren zonder Linksys Connect te gebruiken, klik

hier

.
Als u eenmaal uw router en al uw draadloze beveiligingsinstellingen zoals de naam van de router en wachtwoord heeft geconfigureerd, bent u nu klaar om uw draadloze computers en apparaten aan te sluiten op het netwerk.  Voor meer informatie over het handmatig aansluiten van uw draadloze apparaten, klik

hier

.  Als u Linksys Connect gebruikt, klik

hier

.

Het bereik van uw draadloze netwerk uitbreiden
Er zijn gevallen waarin u WiFi-dode plekken of locaties in uw huis ervaart waar er een slecht of geen signaal is van de draadloze router.  Dit kan worden veroorzaakt door obstakels zoals muren, meubels en armaturen of gewoon gebieden die buiten het bereik van het signaal van de router liggen.  De Linksys Range Extender is een apparaat dat voor de oplossing van slechte of geen signaal zorgt, omdat het draadloze bereik van uw belangrijkste router vergroot.
Voor informatie over het uitbreiden van het bereik van uw draadloze netwerk met de Linksys Wireless-N-Extender, klikt u

hier

.  Voor meer informatie over installeren van uw range extender klik

hier

.
Hoe de WiFi van mijn router of gateway UIT schakelen