Single Port Forwarding stelt u in staat om openbare diensten één voor één op uw netwerk in te stellen, zoals webservers, FTP-servers, e-mailservers of andere gespecialiseerde internetapplicaties zoals videoconferencing of online gaming.

Basisvoorwaarden:
Noteer de poort die u wilt doorsturen – Aan de poorten van de service worden verschillende nummers toegewezen afhankelijk van het type service, de hardware of de toepassing. Raadpleeg de documentatie of neem contact op met de fabrikant van uw apparaat voor meer informatie. Voor gemeenschappelijke poortnummers voor uw game console, klik

hier

. 
Stel een statisch IP-adres in op het apparaat – U moet een statisch IP-adres toewijzen aan de computer of het apparaat dat u configureert voor poort doorsturen. Op deze manier wordt het verzoek voor doorsturen doorgestuurd naar en ontvangen van hetzelfde IP-adres. 
Volg deze stappen om Single Port Forwarding in te stellen.
Stap 1:
Open uw Linksys cloud account van uw router met behulp van een web browser of de Linksys app. Voor instructies klik 

hier

. 

OPMERKING: Als u nog geen Linksys cloud account heeft ingesteld, klik 

hier

 of log in met behulp van het standaard IP-adres van de routeren dit is 192.168.1.1. 
Stap 2:
Selecteer Security (Beveiliging) in het navigatievenster onder Router Settings (Routerinstellingen).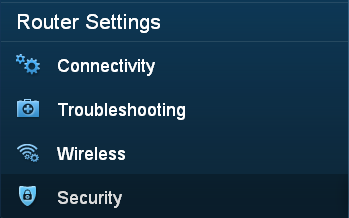 Stap 3:
Selecteer het tabblad Apps and Gaming (Toepassingen en games) in het scherm Security (Beveiliging). Selecteer vervolgens het subtabblad Single Port Forwarding (Doorsturen één poort) en klik op de knop Add a new Single Port Forwarding (Doorsturen één poort toevoegen).
 

Stap 4:
Voer de details in van het apparaat waarvoor u de poort wilt doorsturen. Zorg ervoor dat u de Application name (Toepassingsnaam), de externe en interne poort, het protocol en het Device IP# (IP-adres van apparaat) (het statische IP-adres van uw apparaat) op de juiste wijze invoert. Tik vervolgens op Save (Opslaan).
 
In het volgende voorbeeld wordt een poort doorgestuurd voor een Linksys WVC80N Wireless-N Internet Home Monitoring Camera, zodat de camera via internet toegankelijk is, wat betekent dat u toegang heeft tot u camera zelfs als u niet in de buurt bent van uw thuis netwerk. Deze camera maakt gebruik van poort 80, wat het gewone poortnummer voor internet (HTTPS) is zodat de camera toegankelijk is via internet. Het nummer 192.168.1.11 is het IP-adres van de camera.
SNELLE TIP: Het wordt aanbevolen het Protocol in te stellen op de standaardoptie Both (Beide), zodat zowel de optie TCP als UDP kan worden gebruikt voor snelle en probleemloze connectiviteit.

Stap 5:
Klik op Apply (Toepassen) en klik op Ok.
U moet nu met succes Single Port Forwarding op uw Linksys Smart Wi-Fi Router hebben ingesteld.
Gerelateerde artikelen:
Port Range Forwarding configureren met behulp van de Linksys app
Single Port Forwarding configureren met behulp van de Linksys app
Op de Linksys Smart Wi-Fi Router Port Forwarding instellen via de lokale toegangs-interface