Wat is Linksys Connect?

Met Linksys Connect kunt u eenvoudig uw router configureren.  Door de instellingsinstructies te volgen, kunt u uw computer en andere draadloze apparaten binnen enkele minuten op de WiFi aansluiten.  De software biedt ook veel krachtige hulpmiddelen, zoals Security Settings (Beveiligingsinstellingen), Gast Access (Gasttoegang), Parental Controls (Ouderlijk toezicht) en Advanced Settings (Geavanceerde instellingen), waarmee u uw WiFi kunt beveiligen en beheren.
Voordat u met de installatie begint, moet u rekening houden met de volgende vereisten:
Voor uw computer – Controleer de webbrowser en het besturingssysteem dat uw computer gebruikt en zorg ervoor dat het in de onderstaande lijst staat.
Internet Explorer® 6 of hoger

Windows XP met Service Pack 3

Windows Vista® met Service Pack 1 of hoger

OS X Lion 10.7
OS X Mountain Lion 10.8
 
OPMERKING:  Alleen Linksys Connect-versies 1.4.12263.1 en nieuwer zijn compatibel met Windows 8.  Alleen Linksys Connect-versies 1.4.11222 en nieuwer zijn compatibel met Mac OS X (10.7.x Lion of hoger).  Momenteel is alleen de Linksys Connect versie 1.5.15287.0 van E2500 v3 compatibel met OS X® El Capitan.  Klik

hier

om er meer over te lezen. 
 Materialen voor installatie – U moet de volgende items hebben:
​​​

Linksys WiFi-router

Twee Ethernet-kabels (RJ-45)

Linksys Connect installatie-cd

Computer met internetbrowser, ethernetpoort en cd-rom-station
Als u de Linksys Connect installatie-cd kwijt bent of uw computer geen cd-rom-station heeft, kunt u de Linksys Connect software installatie wizard downloaden vanaf de
Linksys ondersteuningspagina
.  Voor instructies klik

hier

.
Controleer uw internet verbinding – Om te controleren of u verbinding heeft met het internet, sluit de modem aan de computer met behulp van een Ethernetkabel.  Als u geen modem heeft, sluit dan de kabel (ook wel een patch of glasvezelkabel genoemd) die door uw internetprovider (ISP) wordt geleverd, rechtstreeks op de ethernetpoort van de computer aan.  Raadpleeg de afbeelding hieronder voor een voorbeeld.
Zodra u alle stappen hierboven voltooid heeft, kunt u nu doorgaan met de installatie.  Hieronder vindt u stapsgewijze instructies voor het instellen van de Linksys Wi-Fi Router.  U kunt

hier

ook een videoartikel bekijken.

Uw Linksys Wi-Fi Router voor de eerste keer instellen met Linksys Connect
Plaats de Linksys Connect installatie-cd in het cd-rom-station van uw computer.  Als het venster verschijnt, klikt u op Set up your Linksys Router (Uw Linksys-router instellen).  Als er niets verschijnt, dubbelklik op het pictogram Computer of  My Computer (Mijn computer) op uw bureaublad.  Zoek voor deze

 pictogram en dubbelklik.  Het installatieproces moet nu onmiddellijk beginnen.
Klik op de links om meer te lezen over de licentievoorwaarden en andere gerelateerde informatie.  In de linker gedeelte van het scherm, kunt u ook de taal voor de installatie instellen.  Klik op Next (Volgende) om door te gaan.
Volg de aanwijzingen 1 en 2 op het installatiescherm.  Als u meer hulp nodig heeft, klik op de Show me how (Laat me zien hoe dat moet).  Dit zal u voorzien van meer uitgebreide instructies over hoe u uw router aansluit op de computer.

OPMERKING:  In de onderstaande schermafbeeldingen wordt de Linksys E4200 als voorbeeld gebruikt.
Het volgende venster zal u informeren dat het installatie-proces al in de maak, is.  Sluit dit venster niet.
Stap 5:
Uw netwerk zal automatisch een unieke Wi-Fi Name (SSID)(WiFi-naam (SSID)) en een Password (Wachtwoord) geven.  Om uw netwerk te beveiligen, moet u de WiFi-naam en het wachtwoord van uw router wijzigen.

SNELLE TIP:  Wanneer het wachtwoord te veranderen, veranderen in iets wat uw gemakkelijk kunt onthouden maar moeilijk te achterhalen is.  Voor de WiFi naam probeer een naam te verzinnen die u niet in het woordenboek kunt vinden, bijv. een combinatie van letters en cijfers.  Als u eenmaal uw WiFi-naam en wachtwoord heeft veranderd, klik op Next (Volgende).
Het installatiewizard zal doorgaan met de installatie door het identificeren van het type Internet-verbinding die wordt gebruikt.  Klik op Next (Volgende).
Als u bent geabonneerd op een DSL-verbinding, kan een nieuw venster verschijnen en u vragen voor aantal gebruikers accountgegevens.  U kunt uw ISP om deze informatie vragen.
Wacht tot het bevestigingsvenster wordt weergegeven, om u te informeren dat u bent verbonden met het Internet.
Klik op OK.
U wordt doorgestuurd naar het hoofdscherm van Linksys Connect nadat de installatie is voltooid.  U heeft nu met succes uw Linksys Router geïnstalleerd.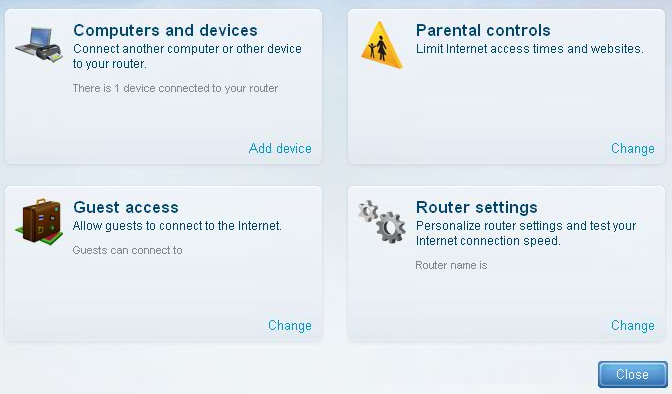 Wat kunt u doen als u problemen ondervind tijdens het installatieproces
Als de installatiewizard niet wordt geladen zoals verwacht, zijn er een paar dingen die u kunt doen: 
U kunt de router opnieuw instellen.  Druk op de Reset-knop voor 10 seconden om het apparaat opnieuw in te stellen. 
Voer achteraf een powercycle uit.  Om dit te doen, trekt u het netsnoer 10 seconden uit de router en het stopcontact en steekt u het vervolgens weer in het stopcontact.
Een andere optie zou zijn om de firewall-software die momenteel op uw computer wordt uitgevoerd te controleren en tijdelijk uit te schakelen. 
Als u nog steeds problemen ondervindt tijdens het installeren, kunt u klikken op de onderstaande links om het probleem op te lossen: